UP College of Home Economics
History
The College of Home Economics (CHE) at the University of the Philippines was established by the Board of Regents on July 27, 1961. It emanated from the Department of Home Economics in the College of Education where the discipline was first officially recognized on November 12, 1921, forty years before the College was established.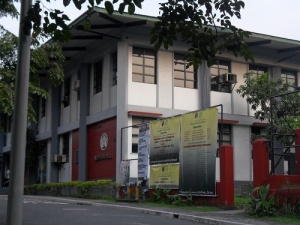 In its beginning years, CHE offered two undergraduate degree programs: BS in Food Technology (BSFT) and BS in Home Economics (BSHE), major in any of the following fields: Nutrition and Dietetics; Home Arts, Clothing, Textiles and Related Arts; Family Life and Child Development; Clothing, Home Furnishing and Crafts Merchandising. The graduate programs which started with the university's Graduate School of Arts and Sciences were transferred to CHE's administration: Master of Home Economics (MHE), Master of Arts in Home Economics (MAHE), and Master of Science in Foods and Nutrition (MSFN).
As the College stepped on its 50th year, it was administering 17 curricular programs: seven undergraduate and ten graduate. With the multiplication and diversification of its curricular offerings, a systematic and substantial disciplinal identity development and curricular review was undertaken by the faculty. For the very first time in the College history, the discipline of Home Economics was defined by the faculty in their own terms (1990) and the Educative Goals of the College articulated (1992). Three common courses were instituted to better address CHE's educative goals and to provide a venue for exchange of ideas among CHE students across sub-disciplines.
To enhance its thrust, the Filipino Family and the Nation series was organized in 1991, numerous public fora on issues affecting Filipino families were conducted from 1992 onwards and the Family Studies Program was established in 1994 as was the Food Safety Project and CHE-Libis Pahinungod in 1995.
Academic Departments
Academic Programs
Undergraduate

Bachelor of Science in Clothing Technology (BSCT)
Bachelor of Science in Community Nutrition (BSCN)
Bachelor of Science in Family Life and Child Development (BSFLCD)
Bachelor of Science in Food Technology (BSFT)
Bachelor of Science in Hotel, Restaurant & Institution Management (BSHRIM)
Bachelor of Science in Home Economics (BSHE)
Bachelor of Science in Interior Design (BSID)

Graduate

Master of Science in Food Science (MSFS)
Master of Food Service Administration (MFSA)
Master of Home Economics (MSHE)
Master of Interior Design (MID)
Master of Science in Nutrition (MSN)
Doctor of Philosophy in Food Science (PhD-FS)
Doctor of Philosophy in Home Economics (Ph.D. HE)
Doctor of Philosophy in Nutrition (PhD-N)
Directory
Dean's Office : 9261449 /9273828/ 9818500 local 3401
HRIM : 3410

CHE Tearoom : 3415
See Also