UP School of Economics
The University of the Philippines School of Economics (UPSE), located at the UP campus in Diliman, was established in 1965 and offers academic instruction leading to baccalaureate and master's degrees and the PhD in economics. The School is the only institution in the country with an active and internationally recognized Ph.D. program in economics; a high ratio of full-time faculty with Ph.D.s; and a nationally unparalleled record of international publications in the discipline.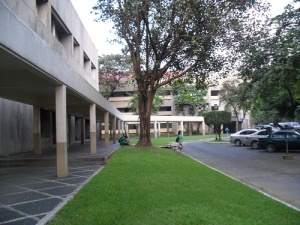 In 1999, the UPSE was designated the sole Center of Excellence in Economics in the Philippines by the Commission of Higher Education.
Current Officials
Ramon Clarete
Dean

Gwendolyn R. Tecson
Ph.D., Hitotsubashi University
Chair, Department of Economics

Aleli D. Kraft
Ph.D., University of the Philippines
Vice-Chair, Department of Economics, Director for Undergraduate Studies, Health Economics Program Coordinator, and Deputy Director for Research

Maria Joy V. Abrenica
Ph.D., University of the Philippines
Director for Graduate Admissions and Fellowships, Director for Graduate Studies, and International Economics Program Coordinator

Fidelina N. Carlos
Ph.D., University of Oregon
College Secretary

Emmanuel F. Esguerra
Ph.D., Ohio State University
Director for Research

Ernesto DM. Pernia
Ph.D., University of California, Berkeley
Director for Public Affairs

Ma. Nimfa F. Mendoza
Ph.D., University of British Columbia
Director for Finance

Academic Programs
Undergraduate

Bachelor of Science (B.S.) in Economics Curriculum
Bachelor of Science (B.S.) in Business Economics) Curriculum

Graduate

Master of Arts (M.A.) in Economics
Master in Development Economics (MDE)
Doctor of Philosophy (Ph.D) in Economics
Directory
Trunkline : 9279686 Extensions :
202 - Dean's office
296 / 297 - Computer Laboratory (bENNY)
207 - PCED SPMO
102 - Milette (Dr. Toby Monsod)
290 - College Sec (Evy)
221 - Chairman (Marie)
9205482 - College Secretary
External Links