Paliwanagan sa UP Diliman – OVCRD Colloquium 2012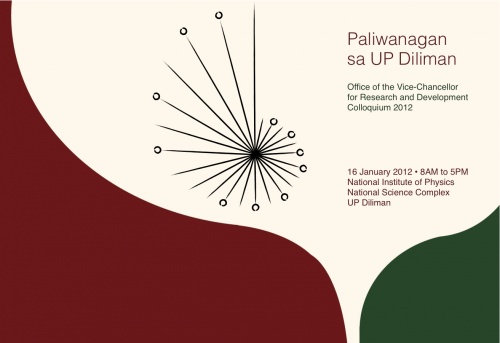 UP Diliman OVCRD Ushers in New Year with Paliwanagan sa UP Diliman – OVCRD Colloquium 2012
The Office of the Vice-Chancellor for Research and Development (OVCRD) of UP Diliman is holding the Paliwanagan sa UP Diliman – OVCRD Colloquium 2012 on 16 January, 8AM-5PM, at the National Institute of Physics Auditorium, National Science Complex, UP Diliman. The Colloquium aims to: 1) showcase OVCRD-funded research and development (R&D) projects, programs, and initiatives, 2) discuss available institutional support to UPD researchers and creative workers, 3) acquaint UPD constituents about research and creative work initiatives of their colleagues in other UPD units, and 4) highlight the complete R&D cycle from proposal writing through intellectual property (IP) creation and invention, to IP dissemination and utilization.
The event's theme, Paliwanagan, takes off from colloquium's literal meaning, i.e. a conversation or dialogue. Paliwanagan sa UP Diliman, therefore, is envisioned as a platform for dialogue among UP Diliman researchers and creative workers, a dialogue that is to be conducted in the spirit of exchange and understanding. As such, the Colloquium sessions have been designed as a venue for sharing research information, experiences and insights between the presenters and the attendees. A parallel event featuring OVCRD information booths, UP Diliman publications, and information about UPD's research partners provides a glimpse into the broader context of the R&D process, in terms of various forms of institutional support and other opportunities available to UPD researchers and creative workers. Through the sessions and the parallel event, the OVCRD hopes that the UP Diliman community will gain a better understanding of how R&D progresses in the campus, leading to a sharing of inputs on how a responsive, proactive and dynamic R&D program can be better achieved in UP Diliman, making the University a source of solutions for the problems besetting the country.
The Colloquium's goals are aptly captured in the event's logo. The spiral of the nautilus shell reminds of a vitality guided by the golden ratio or phi constant, which embodies the ideals of what is dynamic, organic, and harmonious. While slightly differing from the golden spiral, the nautilus shell has been symbolic of a growth that incorporates the past within the present. Rooted to learned lessons, each former spiral serves as basis for the formation of future spirals, reminding that future development is driven and guided by a central vision. Circular endpoints of some light rays in the logo correspond to already realized R&D. Rays without definite endpoints imply a promise of continuous support as aimed at and accelerated by Paliwanagan and its organizer, the Office of the Vice-Chancellor for Research and Development. The UP maroon and green hues demonstrate how the University's mission always remains a foundation for Paliwanagan and all R&D initiatives in the campus.
See also
External Link