UP In-Christ Thrust for University Students
From Iskomunidad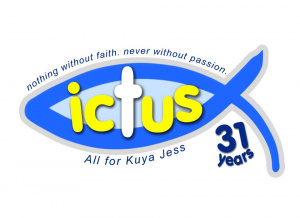 History
UP ICTUS is a duly-recognized, non-stock, non-profit and socio-civic student organization of the University of the Philippines - Diliman, based on the Parish of the Holy Sacrifice Compound, UP Diliman. ICTUS was founded on December 8, 1981 by Dennis Arroyo and seven other friends. The organization was consecrated to Mary, our Mother, on December 8, 1982. We were among the ten finalists in the 2004 Ten Accomplished Youth Organizations (TAYO) in the NCR.

ICTUS is based on four thrusts:
SERVICE: is the offering of oneself to God through the things that we do. Wholeheartedly, ICTUSians offer themselves to their fellowmen by giving them the things that prove to be very essential and helpful to them.

TEACHING: is ICTUSians' one way of showing their allegiance to God—as ICTUS believes in the importance of education. Not only do we help in academics but also in instilling in them values by incorporating the Word of God.

FELLOWSHIP: ICTUS prides in the strong bond between its members and with the people we interact with—especially the children. A true ICTUSian will offer everything within his or her means to better the people around him and his or her surroundings.

PRAYER: creates a deep relationship with God. Every ICTUSian yearns for that connection with God and so prayer is very essential in his or her life—believing that everything that we do is for Him and from Him.

With all these four thrusts, we work. We strive to work for God and be the children He wants us to become.
Nothing without faith, never without passion, all for Kuya Jess. <><
Officers
AY 2011-2012
Chairperson: Marc Emanuel Lalas

Vice-Chairperson/University Apostolate Head: Jerico Roy Germar

Finance Officer: Monica Pujol

Spiritual Formation Officer: Patrick Tiongson

Liaison Officer: Venson John Domingo

Membership Officer:Richard Losito

Secretary: Frachelle Marie Mamaril

Catechism Head: Rachelle Lea Manuel

Children's Literacy Apostolate Head: Simoun Victor Redoblado

Community Service Apostolate Head: Anice Yumul

Tutorials Apostolate Head: Jose Fernando Abrillo

AY 2010-2011
Chairperson: Jerico Roy Germar

Vice-Chairperson/University Apostolate Head: Mary Hazelle Monsada

Finance Officer: Julian Genesis Canita

Spiritual Formation Officer: Ruby Lauren Manuel

Liaison Officer: Jose Miguel Abrillo

Membership Officer: Juan Miguel Roberto Delgado

Secretary: Angelika Doreen Martinez

Catechism Head: Marc Emanuel Lalas

Children's Literacy Apostolate Head: Meredith Malinawan

Community Service Apostolate Head: Jill Manapat

Tutorials Apostolate Head: Melissa-Flor Ubaldo

Catholic Students' Community Representative: Alexandria Bergado

Fish N Quips Editor-In-Cheif: Luka Desabelle
Roster of Members
Abram Lanot, BS Statistics
Achel Mamaril, BS Mathematics
Ana Korina Abrillo, BA English Studies
Anice Yumul, BA Philosophy
Benjie Mamaril, BS Business Administration
Braian Encinas, BS Civil Engineering
Danica Amanda Lopez, BS Community Development
Edzel Tabing, BS Business Administration
Emil Andrew Custodio, BS Business Administration
Gabriel Sanchez, BS Biology
Helene Andrea Cachero, BS Mathematics
Jean Becong, BS Hotel and Restaurant Institution Management
Jela Desabelle, BS Statistics
Joseph John Sanchez, BS Biology
Kae Olib, BS Hotel and Restaurant Institution Management
Karen Claire Chan, BS Tourism
Katrina Elea Catral, BS Business Economics
Katrina Villanueva, BS Business Administration
Korina Ana Manibog, BA Political Science
Krisel Getalada, BS Tourism
Mae Hyacinth Kiocho, BS Economics
Marie Ventanilla, BS Economics
Marie Angelee Ygnacio, BS Business Administration
Melbert Tizon, B Secondary Education
Michael Calaranan, BA Journalism
Nandy Abrillo, BS Metallurgical Engineering
Nelson Fadirugao, BS Hotel and Restaurant Institution Management
Monica Pujol, BS Business Administration
Nikko Silva, BS Economics
Nonalyn Superable, BA Political Science
Pamela Panganiban, BA Broadcast Communication
Patrick Tiongson, BA Broadcast Communication
Phillterr Saligumba, BS Economics
Rap Abenido, BS Materials Engineering
Rhein Portugal, BS Hotel and Restaurant Institution Management
Richard Losito, Sertipiko sa Malikhaing Pagsulat sa Filipino
Simoun Redoblado, B Secondary Education
Sophia Manimbo, Sertipiko sa Malikhaing Pagsulat sa Filipino
Venson Domingo, BS Architecture

Activities
July
3 Start of Children's Literacy Apostolate (every Saturday)
5 Start of Philippine Children's Medical Center Play Therapy (every Mondays)
Start of Cathechism Apostolate at Balara Elementary School (every Mondays)
26 Animal Shelter Feeding (Community Service Apostolate)

Announcements
See Also