UP Association of Chemistry Majors and Enthusiasts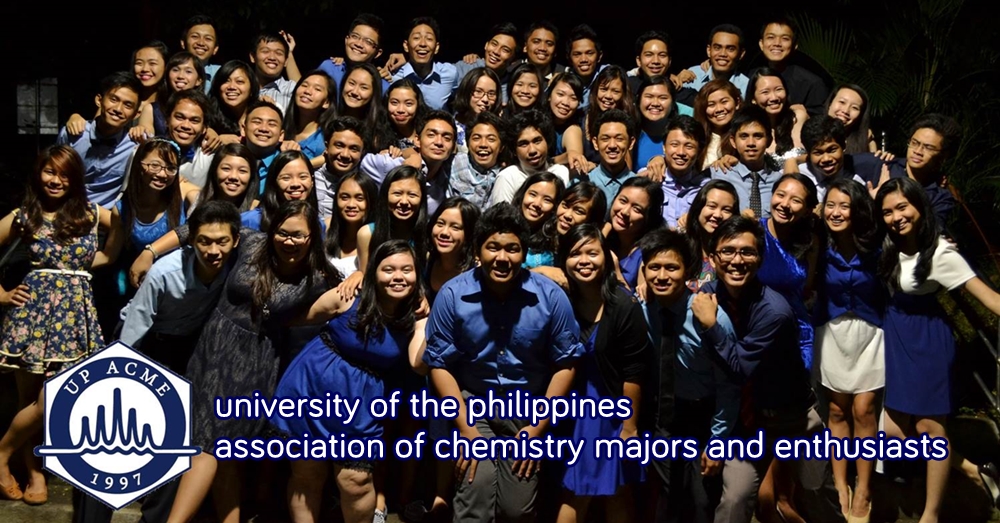 History
About Us
The University of the Philippines Association of Chemistry Majors and Enthusiasts (UP ACME) is a non-political, non-stock, non-profit, student-oriented academic organization based in the Institute of Chemistry, College of Science, University of the Philippines Diliman, Quezon City. ​
Established in 1997, UP ACME is aimed at promoting academic excellence while developing leaders with high sense of responsibility, which is exemplified by promoting camaraderie and well-rounded development among its members, and undertaking activities for the promotion and appreciation of Chemistry. ​
Dissolved in 2006 but was reestablished two years later, UP ACME continues to safeguard its honor, maintain its integrity and promote a sense of loyalty among its members, led by the member-elected Executive Committee which, through collective efforts, help in enhancing the physical, intellectual and social well-being of its members.
UP ACME fulfills a legacy of excellence by the roster of its motivated members, mentored by senior adviser Guillermo Nuesca, Ph.D. and junior adviser Lawrence John Paulo Trinidad, geared at uplifting Chemistry in the Philippine setting.
Executive Committee
EXECUTIVE COMMITTEE
Academic Year 2014 - 2015

Chairperson
Al Ace I. Balatico

Vice Chairperson
Faye Arielli C. Butaran

Secretary
Kristhina Regine O. De Ocampo

Academics Committee Head
Ronny L. Cheng

Finance Committee Head
Robbin Rebecca C. Lisondra

Membership Committee Head
Emmanuel Enric M. Sanqui

Publicity Committee Head
Jose Nickolo O. Perez

Senior Faculty Adviser
Guillermo M. Nuesca, Ph. D.

Junior Faculty Adviser
Lawrence John Paulo L. Trinidad
Members
ACADEMICS COMMITTEE
The Academics Committee of ACME spearheads activities which are geared towards the promotion of academic excellence within the Chemistry community of the University. These are in the form of Chemistry-based quiz bees, symposia, and class tutorials.
Ronny L. Cheng
Jeri Ian M. Abdon
Antonio C. Bonga III
Faye Arielli C. Butaran
Christian Z. Cariño
Efreihm Jovi T. De Guzman
Ric Michael P. De Vera
Searle Aichelle S. Duay
Jasper S. Dumalaog
Ninna Clarice B. Evangelista
Jokent T. Gaza
Patricia Nyn L. Heruela
Lizette S. Mella
Ralph John Emerson J. Molino
Charleen Grace R. Kam
Leonardo N. Sibal, III
Carlo A. Tac-an

FINANCE COMMITTEE
The Finance Committee spearheads fund-raising activities and maintains the financial account of the organization. It is composed of thirteen members which makes sure to raise enough money for all the events of the organization. The committee holds different income-generating projects such as bake sale and shirts sale.
Robbin Rebecca C. Lisondra
Michelin C. Ang
Abbygaile T. Beo
Frances May L. Coralde
Aira Sacha Nadine S. Ferrer
Audrey S. Garcia
Julienne Blaise C. Legaspi
Patricia Anne A. Lim
Monica B. Mabituin
Keyfej C. Ramos
Criza Mae M. Repolles
Steffi Mellisse M. Tan
Mark Eric C. Trinidad

MEMBERSHIP COMMITTEE
The Membership Committee focuses on the internal affairs of the organization. It has three primary jobs: (1) to recruit and train applicants to become full-pledged members, (2) to ensure the well-being of the current members, and (3) to keep in touch with the alumni. The committee also takes pride of its proactive members, always happy to serve fellow ACMEms with a smile and pushing everyone to the edge… towards excellence.
Emmanuel Enric M. Sanqui
Alleli Denise R. Albarico
Carol Jean A. Antonio
Al Ace I. Balatico
Jenny Wendy S. Balbuena
Micoh Girio D. Bringera
Shaira R. Dy
Joseph Matthew D. Estrella
Alvin C. Magallanes
Fevie Ann B. Ramos
Donnifer V. Reyes Jr.
Karyl Clarice S. Salas
Nadya Patricia E. Sauza
Lianne Elizabeth A. Suero

PUBLICITY COMMITTEE
The Publicity Committee is responsible for the promotion of the organization and its events. It is composed of artists and writers who lead the production of announcement posters, exhibits, newsletters, and other information paraphernalia. The committee is also responsible for the creation of the organization's merchandise designs.
Jose Nickolo O. Perez
Chester Angelo R. Alas
Patrick Josemaria d.R. Altavas
Kristhina Regine O. De Ocampo
John Carl V. Gatdula
Jaimie P. Loja
Mary Joyce M. Narciso
Mary Angelica G. Ordoñez
Robert Jervine V. Ortega
Kenn Ryu Q. Palines
Windol Charls C. Santos
Jose Roberto P. Sto. Domingo
Trizzia Michelle A. Tiwaquen
Edvalynn Marielle J. Yan
Events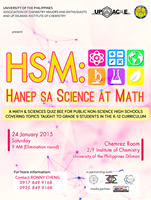 HSM: Hanep sa Science at Math
HSM: Hanep sa Science at Math! is a math and sciences quiz bee for public non-science high schools in Metro Manila. The contest aims to promote the appreciation of natural sciences and to recommend math and science courses as prospective college degrees.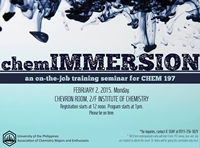 Chem Immersion
Chem Immersion is an annual on-the-job training (OJT) seminar especially prepared for the third year Chemistry students of the Institute of Chemistry, UP Diliman, in line with the summer practicum undergraduate requirement. ​
The seminar is conducted in collaboration with the adviser for the upcoming Chem 197 summer practicum course. Moreover, several senior chemistry students from the same institute share their experiences and insights regarding their own summer practicum. Through this, the seminar aims to provide students with preliminary knowledge on the list of chemical companies, industries, and institutions they might wish to perform their summer practicum.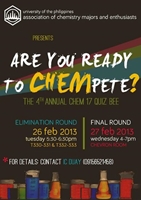 Are You Ready to CHEMpete?
Are You Ready To CHEMpete? is an annual event which is open to all students currently taking the subject Chem 17 in the given semester. ​
Participants initially undergo a preliminary written elimination round, wherein the top-scoring teams advance to the quiz bee-type format final round. This event serves to foster teamwork and critical thinking among its participants, while at the same time testing and building on the foundations of students' knowledge regarding Chem 17 topics.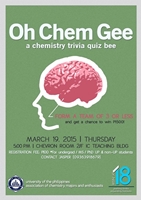 Oh Chem Gee!
Oh-Chem-Gee! is a chemistry trivia quiz bee open to all students of the university. ​
It consists of chemistry-related questions about popular culture, serving as a refreshing and lighthearted break from the discipline and rigors of the academe.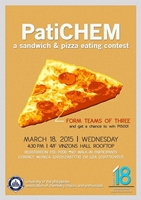 PatiCHEM
PatiCHEM is a food-eating contest open to all students of the university.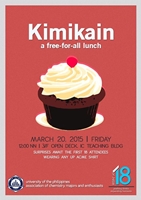 Kimikain
Following the Filipino tradition of fiesta, Kimikain is the culmination of ACME Week, celebrating through food. Lunch is prepared and served by the organization for the faculty and staff of the Institute of Chemistry in gratitude for their support. Students are also invited to join the event for promotion of the organization to the student body.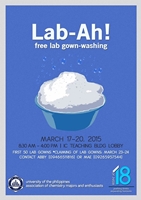 Lab-Ah!
Free laboratory gown washing for students taking up laboratory classes.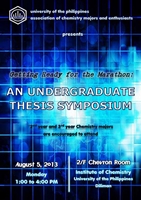 Getting Ready for the Marathon: An Undergraduate Thesis Symposium
The Undergraduate Thesis Symposium is an avenue wherein professors based in the Institute of Chemistry share their current and upcoming projects, which BS Chemistry students may base upon for their thesis.
Akapnayan
Akapnayan is the organization's annual charity event, which aims to give back to the community and to also promote the study of Chemistry to the youth.
Contact Us!
E-mail: upd.acme@gmail.com
Website: UP Association of Chemistry Majors and Enthusiasts
Facebook:UP Association of Chemistry Majors and Enthusiasts
Announcements
See Also
UP Diliman Student Organizations UP College of Science UP Institute of Chemistry