Pangmayaman Na Lang Ba Ang UP
From Iskomunidad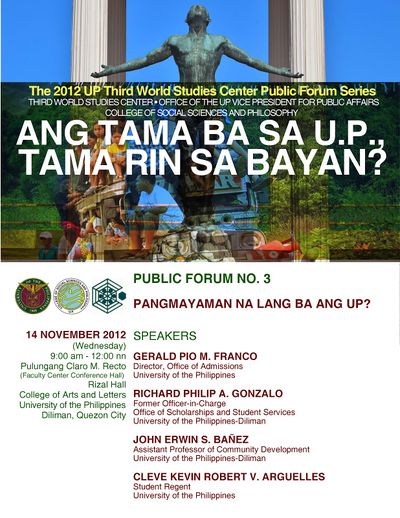 "Pangmayaman Na Lang Ba Ang UP?" is the third forum of the 2012 TWSC Public Forum Series, "Ang Tama ba sa UP, Tama rin sa Bayan?"

SCHEDULE
14 November 2012 (Wednesday), 9:00 AM - 12:00 NN

VENUE
Pulungang Claro M. Recto (Faculty Center Conference Hall), Rizal Hall, College of Arts and Letters, University of the Philippines, Diliman, Quezon City

PROGRAM
MODERATOR
Jean Encinas-Franco, PhD
Assistant Professor
Department of Political Science
College of Social Sciences and Philosophy
University of the Philippines-Diliman
ABOUT THE FORUM
"Edukasyon! Edukasyon! Karapatan ng Mamamayan!" If only the zeal in shouting such tired slogans are made into money, then all the poor but deserving students would indeed end up in UP. But it seems the reality in UP these days is this: only those who can pay their way are allowed to bring home a college degree. The so-called poor and deserving students fend for themselves—if only to prove that indeed they will survive out of sheer intelligence. Even the UP Collegian, in its 20 June 2012 issue, quoted UP President Alfredo Pascual as saying, "mayayaman na lang talaga ang nag-aaral sa UP." Section 9 of the UP Charter of 2008 says UP "shall take affirmative steps which may take the form of an alternative and equitable admissions process to enhance the access of disadvantaged students, such as indigenous peoples, poor and deserving students including but not limited to valedictorians and salutatorians of public high schools, and students from depressed areas, to its programs and services." However by some prestidigitation, the present dispensation's UP Strategic Plan for 2011-2017 now claims "to recruit the best and the brightest students from all over the country regardless of economic status." What's more, it aims to review and rationalize UPCAT "to make it more aptitude-based rather than achievement-based." This ambivalence results in the further marginalization of the disadvantaged students who were granted privileged status in the UP Charter of 2008. In teasing out the above contrarieties, how can we define the goal of "democratic access" in the National University? How far is UP in addressing in full said objective? This forum will be a survey of how committed UP is to this singular mandate.
Time
Activity
In-Charge
8:30 – 9:00
REGISTRATION
9:00 - 9:05
WELCOME REMARKS
Maria Corazon J. Tan


Vice-Chancellor for Student Affairs
University of the Philippines-Diliman


9:05 - 9:15
INTRODUCTION OF SPEAKERS
9:15 - 9:35
Lecture
Gerald Pio M. Franco


Director
Office of Admissions
University of the Philippines

9:35 - 9:55
Richard Philip A. Gonzalo


Former Officer in Charge
Office of Scholarships and Student Services
University of the Philippines-Diliman

9:55 – 10:15
John Erwin S. Bañez


Assistant Professor
Department of Community Development
College of Social Work and Community Development
University of the Philippines-Diliman


10:15 – 10:35
Cleve Kevin Robert V. Arguelles


Student Regent
University of the Philippines


10:35 - 11:50
OPEN FORUM
11:50 - 12:00
SYNTHESIS