Kaligtasan, Kabuhayan, Karapatan: Mga Batang Manggagawa sa Tubuhan
From Iskomunidad
CSWCD conducts Research Forum on Child Labor in Sugarcane
AUGUST 26, 2015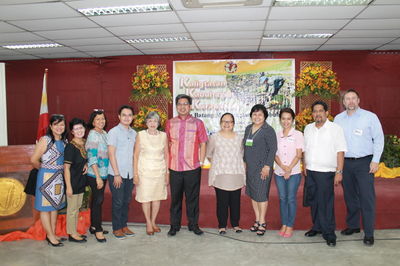 A forum entitled, "Kaligtasan, Kabuhayan, Karapatan: Mga Batang Manggagawa sa Tubuhan" was held at the Bulwagang Tandang Sora, CSWCD on August 13, 2015. The University of the Philippines Social Action for Research and Development Foundation, Inc. (UPSARDFI) of the College of Social Work and Community Development, through the Research and Extension for Development Office, sponsored the event. The forum aims to disseminate the research findings from the studies undertaken by the ABK3-UPSARDFI and University of St. La Salle Bacolod; gather feedback from the various stakeholders; and identify recommendations for possible policy and program reforms to improve child labor conditions in sugarcane.
Five studies were presented during the event namely: Baseline Study of ABK3 LEAP Areas; Occupational Safety and Health Hazards Analysis Among Child Workers in Sugarcane Production; Child Labor and Migration Patterns of Sacada Children and their Families in Selected Sugarcane Plantations in the Philippines; Land Reform Implementation in Selected Sugarcane Farms and Its Implications on Child Labor; and, Maximizing Productivity of Block Farms Through Innovative and Sustainable Technologies and Management.
Forum participants came from government agencies, non-government organizations and academe. The studies and forum are part of the overall ABK3 LEAP project whose objective is to reduce child labor in sugarcane areas.

Source : http://cswcd.upd.edu.ph/?p=4799