Ikotoki Para Exhibit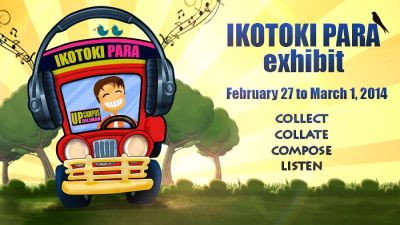 Ikotoki Para is the exhibit component of Prof. Christine Muyco's Ikotoki Project. Ikotoki Para is about audio archiving the UP Diliman Campus and presenting it as an inspiration for young composers to produce new works. Environment sound recording were assigned to students of College of Arts and Letters (Art Studies), College of Science (Zoology), College of Engineering (EEE) and others. The final output can be experienced on selected waiting sheds along the Ikot route that will serve as exhibition venue. It would either be on listening stations or sound producing installations. An online gallery will contain all raw files, the compositions, information and interactive activities for audience. Participating artists are Minich Cruz, Prime Felias, Feliz Ann Macahiz, Jordan Peralta, Jam Respicio, Patricia Rodriguez, Jairus Saldejeno, Karl San Jose and Nicanor Valdez. This exhibit is curated by Dayang Yraola.
Schedule for Ikotoki Para listening stations: Feb 27, 4PM/ Feb 28, 9AM and 4PM/ Mar 1, 9AM and 4PM
Meet-up at College of Music back parking 10mins before scheduled ikot. Tour fee aka pamasahe is P50.00 per person. No chance passengers. Please book by Feb 26, 4PM via ikotokipara@gmail.com (subject: tour book)
Btw the tour is open to non-UP classes...parang UP Diliman na bukas sa lahat ng nais magjogging
Kitakits!