Divided Hearts and Loyalties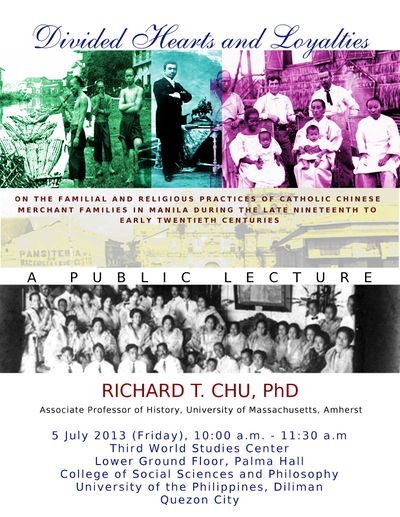 Divided Hearts and Loyalties:
On the Familial and Religious Practices of
Catholic Chinese Merchant Families in Manila
during the Late Nineteenth to Early Twentieth Centuries

SCHEDULE
5 July 2013 (Friday), 10:00 - 11:30 AM

VENUE
Third World Studies Center Conference Room, Lower Ground Floor, Palma Hall, College of Social Sciences and Philosophy, University of the Philippines-Diliman
ABSTRACT
Insincere Catholics? Disloyal Spanish subjects? These were some of the descriptions ascribed to a number of Chinese merchants living in Manila during the late Spanish and American colonial periods. For many of these individuals and their families, engaging in "border-crossing" practices was a strategy that they used to adapt to, collude with, or evade the attempts by dominant groups to control their minds, bodies, and resources. The lecture describes some of these familial and religious practices, e.g., polygamy, adoption, apostasy, "dual" citizenship that may appear to the colonial rulers (and to contemporary eyes) as "insincere," "immoral," or "disloyal." Utilizing new or underutilized historical materials, it reframes such practices from the perspective of transnationalism to suggest new ways of understanding Filipino and Tsinoy ethnic identities, history, and culture.
ABOUT THE LECTURER
Richard T. Chu is Five-College Associate Professor of History at the University of Massachusetts, Amherst. He has published various articles focusing on the history of the Chinese and Chinese mestizos in the Philippines and centering on issues of ethnicity, gender, and nationalism. He is also the author of Chinese and Chinese Mestizos of Manila: Family, Identity, and Culture 1860s–1930s (E.J. Brill, 2010; Anvil 2012) and Chinese Merchants of Binondo during the Late Nineteenth Century (University of Santo Tomas Press, 2010). He is currently working on his next book project that analyses the different newspaper articles and other textual materials dealing with the "Chinaman" question in the Philippines during the American colonial period.
Professor Chu holds an MA degree from Stanford University and a PhD degree from the University of Southern California. He teaches courses on Pacific empires, Philippine colonial history, Asian American history, the Chinese diaspora, and world history.