UP Philippines-Japan Friendship Club
History and Profile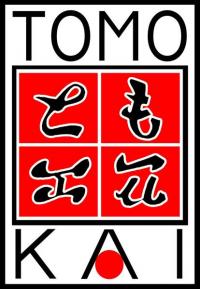 With a growing number of students in UP becoming more interested in the Japanese language and culture, there was a need to start an organization to promote better understanding between Filipinos and Japanese. There have been many previous attempts by a number of students to start an org of this nature, but these attempts did not come into fruition.
Seven students answered and met the challenge. Known as the Seven Samurai, Alf, Daniel, Deric, Eric, Gay, Flor and Kit set out to spread the word. The Seven Samurai invited students from various reaches of the university to join them in the creation of an organization that enriches the culture of the two countries.
The first general assembly on July 7, 1990, marked the birth of the UP Philippines-Japan Friendship Club. The date is both historic and historical; July 7 being the date for the Tanabata Festival (七夕) and the anniversary of the founding of the Katipunan.
However, the name of the org, UP Philippines-Japan Friendship Club, was so unwieldy even when shortened into acronym form. Luckily, inspiration struck as a new and catchier name was coined: Tomo-Kai. The first part of the name comes from Tomodachi (友達) a Japanese word meaning friend, while 'Kai' comes from Kaibigan, a Filipino word meaning, you guessed it, friend. The name can also be read as Tomo no Kai (友の会) literally meaning Friendship Club.
UP Tomo-Kai has since transitioned from being a college-based organization to a university-wide organization, furthering its aims to strengthen bonds between Japanese and Filipinos, improve relations of Japan and the Philippines, and to spread the appreciation and understanding of Filipino and Japanese languages and cultures.
Officers
UP Philippines Japan Friendship Club (UP Tomo-Kai)
The Executive Committee AY 2012-2013

President: Rializza Maramba
Secretary: Jolina Santos
Academics and Research Committee Head: Egbert Amoncio
Finance and Properties Committee Head: Alexandria Bergado
Membership Committee Head: Leonard Keven de Castro
Publicity and Publications Committee Head: Ma. Sabrina Marasigan
Resources and Linkages Committee Head: Anna Patricia Mora
Members
UP Tomo-Kai's members include both Filipino and Japanese students of UP Diliman. At the moment, the organization boasts of near 400 resident members and alumni.
Applications for membership are held at the start of every semester and are announced in UP Tomo-Kai's website and Facebook page. Applicants may opt to drop by the organization's booth, usually at the AS Walk, or accomplish the online application form at the website.
Activities
UP Tomo-Kai actively engages itself in various activities throughout the academic year. Some of these activities include: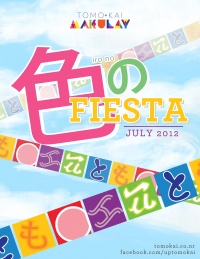 Anniversary Month Celebrations

Every July, UP Tomo-Kai celebrates its founding with a myriad of activities such as interactive exhibits, a kissaten or Japanese tea house, eating contests, and cultural nights which feature performances from the best of both cultures. Each year, members choose a different theme to embody the dreams and aspirations of the organization, or to celebrate the cultures and the friendship of the Philippines and Japan. Past anniversary themes include Kanpai! Tagay! Juuhasai! (2008), Tomo ni Hibiku, Futatsu no Koe (2009), Sulong Tomo-Kai! Yuuki Hyakubai: Ituloy ang Dalawang Dekadang Sigla (2010), and KAKUSHIN: Lusob Lukso Lipad (2011), to name a few.


In 2012, the organization adopted Tomo-Kai, Makulay! as a theme not only for its anniversary celebrations but for all its activities for AY 2012-2013. The anniversary was called Iro no Fiesta: A Festival of Colors and was composed of six major events: Unang Buhos! A Waterballoon Tournament; Land of Rice and Sun, a food festival; Nijuunisai: Tomo-Kai, Makulay!, a dinner party with the alumni; IROIRO HALOHALO, an interactive exhibit; Aurora Borealis Rock Music Night; and Monokuro, a cultural concert.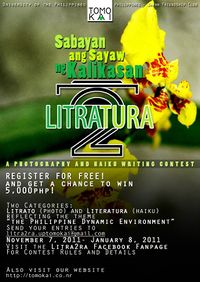 Contests

Sulyap – Nihongo Short Film Competition (2008-2010)
Sulyap began in 2008 in order to further spread and encourage the interest in the Japanese culture and language. It showcases short film entries (short being ~15 minutes) that had at least 90% of the dialogue in Japanese. The competition was held every March of the second semester, and accepted contestants from any region and any university.


Litratura: A Photography and Haiku Writing Contest (2011-2012)
Litratura, a portmanteau of "litrato" (photo) and "literatura" (literature), was a contest formed with the objective of promoting haiku-writing in the Philippines and to uphold Philippines-Japan cultural awareness and friendship through art. In its first year, contestants were required to both take a photo and write a haiku that depicted something "Unusual, Unexpected, yet Unmistakably Filipino". In Litratura 2: Sabayan ang Sayaw ng Kalikasan, separate categories were created for haiku and photography. The theme then was "The Phillippine Dynamic Environment", the contest aimed to gather works that portrayed positive images and messages for the Philippines through nature.


Dance Performances
Dances have always been part of any culture: the intricate costumes and steps that stems from centuries of rituals, social rules, emotions, history – the country itself. Tomo-Kai is in one way also a performing org. We have performed traditional Philippine and Japanese dances around the University and even beyond, and we are also often invited to various venues in order to spread a touch of culture where needed. UP Tomo-Kai's repertoire includes Japanese dances yosakoi, soran bushi, and eisa, and Filipino folk dances such as tinikling, pandango sa ilaw, karatong, and janggay.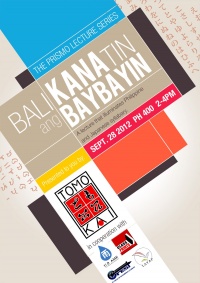 Tours for Japanese Friends

Every year, many Japanese exchange students enter and study in the University. Tomo-Kai makes sure that their stay here in the Philippines is as comfortable and enjoyable as possible; one of the ways we do this is by arranging tours around Manila or Marikina, soaking up the culture, forming new friendships, one place at a time.


Nihongo Lessons
Nihongo tutorials are regularly held at the Tomo-Kai tambayan for both members and applicants. Once the basics of the language are grasped and learned, it is the now-learned member's turn to spread his own knowledge to other people. Tomo-Kai members are also active participants in Saturday Nihonggo tutorials held every other week by Filipica.


Lectures and Workshops
As students of the country's premiere national university, UP Tomo-Kai also holds informative lectures and workshops about Japan and the Philippines with guest speakers and professors. We cover various topics: from study opportunities in Japan, traditional dances, writing systems, origami, Filipino and Japanese time, etc. The organization launched its very own lectures and workshops series, PRISMO, in 2012.

Outreach Programs
UP Tomo-Kai prides itself on being a socially-aware and responsible organization. At least twice a year, TK members take some time off to help and volunteer in philantrophic ventures by the USC or by NGOs. We believe that helping other people is a valiant and noble duty.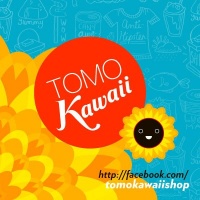 Tomo-Kawaii Online Shop
First launched in 2010, UP Tomo-Kai's online shop Tomo-Kawaii was relaunched with a new look last September 2012. The shop opens seasonally and sells various products such as ballers, pens, keychains, etc. In select time periods, it also announces week-long sushi sales in campus. Tomo-Kawaii is managed by the Finance and Properties Committee of the organization.










Announcements
Soon.
See Also
UP Tomo-Kai's Official Website [http://tomokai.co.nr/]
UP Tomo-Kai's Official Facebook Page [https://www.facebook.com/uptomokai]