Tapati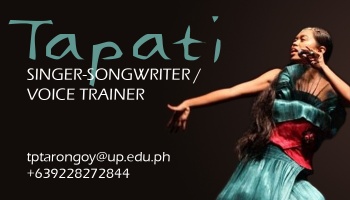 Tapati is an imaginal artist involved in different areas of performing arts.

Her primary visibility is in the world music scene; starting with her playing percussions and doing vocals with Joey Ayala's band BAGONG LUMAD for 5 years and counting, as a theatrical dancer embracing world music movements and contemporary dance, as an emerging singer-songwriter doing solo and collaborative performances (commercial jingles, indie film music scoring) to playing a larger role of spearheading and co-organizing arts and culture events in the country.


With her powerful spirited Voice, Dance and Music, Tapati as herself is a roving festival doing a fair share of social sculpture.