Space Pursuers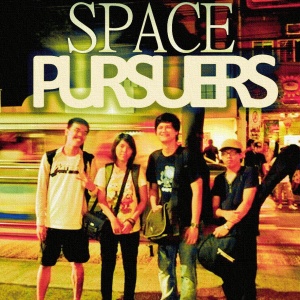 Band Members
Archie Yuki (Yuki)
Rejemiah Crispo (Rejie)
Drzon
Kat

Biography
Space Pursuers started on the year 2011 when two employees, Archie Yuki(Yuki) and Rejemiah Crispo(Rejie), decided to form a band because they wanted to express themselves through music and play in a rock and roll band.
At first, they jammed at Rejie's house and they were making original music right away. Yuki is the one who writes the songs, and then he plays it to Rejie, and then they arrange it. They prefer to create original songs because Yuki said he doesn't enjoy playing cover songs much and he admits that if you commit a mistake while playing cover, it can be easily noticed.
Name of the Band
They have a lot of names that were considered for the name of the band; The Arche, Raise Your Hands, Paper Mache', The Yuki, Pencil Case, Kokom Bond, and Cherub Rock. It was difficult to pick a name especially if there are bands already using it. Then one time, Yuki was reading inspirational books, he read word pursue, he decided that it's quite a catchy name if you use it as a person, Pursuer. He came up with the name Space Pursuer because it seemed galactic to him. The name also reflects their attitude towards different things they do in life. If you want something, you have to pursue it.
They became friends because they both love music and have a passion for playing in a band . They have different tastes in music; Rejie is more into alternative rock music like Greyhoundz, Wilabaliw, Kamikazee, Urban Dub, and Punk rock. While Yuki is more into The Beatles, E-heads, OPM Rock, and Brit-pop Rock. With these influences, the music that they create sounds so interesting and fun to listen to.
They looked for a bass player and a drummer for the band, and eventually, Yuki met Drzon in a Music Shop in Cubao and Kat was found through the internet.
Plans
As of now, they continue to write songs and play in different bars in Metro Manila. They are scheduled soon for a multi-track recording of their songs and are looking for people that can help them to record their songs professionally. Their music can be considered alternative OPM Rock but Yuki said that it's Experimental Rock because he doesn't want their music to be put in a box.
      "Musicality wise, we always improve or change just like in our life, we improve and change."- Yuki  

      "Gusto lang namin yung ginagawa namin'-Rejie.

The band is looking for opportunities so that their music will be appreciated and be heard in the international music scene.
Contact Information
Yuki- 638-16-46/ 09175769607
Rejie- 426-97-34