Pulsera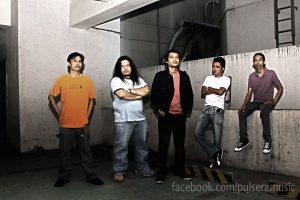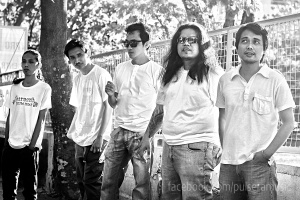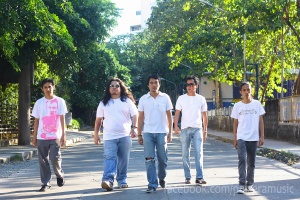 Band members
Omar Regalado - vocals/guitar
Marc Balanay - guitar
Aldrich Prawira - guitar
Rey Lamurin - bass
Jansen Respicio - drums

The band
In an industry where the delineation of creative artistry and commercial viability has so often been misused and abused, where the essence of independence has been bastardized to coax the egos of self-deprecating poseurs, there remains a number of artists actively seeking to retool their arsenal and ultimately break free from the perceived norms (and spite those hypocrites along, as well).


PULSERAº is one such band, and it boasts of a brand of music counter to the more popular genre in this day. Never loud only to be deviant, PULSERAº is an alternative to your long, drawn-out, screaming suicidal sentiments.


After producing several songs and with their constant gig exposures, Pulsera collectively decided to reinvent its sound of what was already melodic, provocative and gritty.


PULSERAº assaults its listeners with a controlled barrage of pulsating beats, multitextured guitar riffs, groove-laden bass lines, ambient backgrounds and chilling melodies, while never losing the grip on its hard-hitting stance. Though such a structure may be a little complex to some, one is never lost in all the layers of sound nor the perverse messages of the songs.


On live sets, PULSERAº is never static, never complacent. Its music is never pretentious. It does not rip a page off of someone else's music book. When you think you have the music down pat, it reemerges on the other side of the spectrum – a myriad of sounds from alternative rock, grunge, post rock, shoegazer, ambient, post hardcore, psychedelic, progressive, industrial to metal.


PULSERAº is eternally on a journey of revolution to break adherence from inertia – a scene already crowded with failed, "attempting" lovers. Simply put, it aims to shoot you off through the roof.
Contact Details
pulserasound@yahoo.com