Pottery -Wheel Throwing Workshop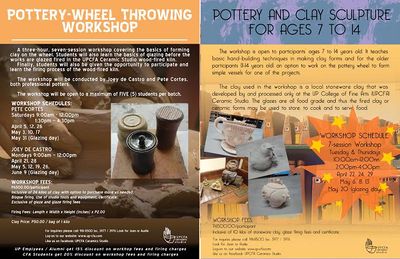 Pottery- Wheel Throwing Workshop
Letter to UP Community
Mabuhay from UPCFA Ceramic Studio!
We are pleased to let you know that the College of Fine Arts is now operating the only ceramic studio in all of the UP system since its inception on 2008.
This is to invite your constituents to join our workshop. We are offering 15% discount on workshop fees and firing charges to UP employees or 1 dependent and UP Alumni. Attached is our flyer for your reference.
We look forward to seeing you at the studio.
Thank you very much.