Myth and Writing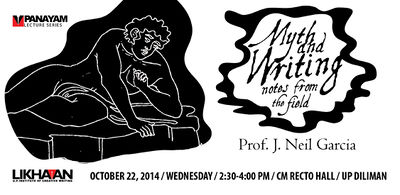 The UP Institute of Creative Writing (UP ICW) invites everyone to "Myth and Writing: Notes from the Field" a lecture by Prof. J. Neil Garcia on 22 October, 2014 (Wednesday), 2:30-4:00 p.m. at the Claro M. Recto, Faculty Center, UP Diliman.
In this lecture, Prof. Garcia will "examine the idea and practice of myth in the various ways that comparative religious studies, psychology, and contemporary critical theory have defined (or appropriated) it, paying close attention to how myth has come to function as an inexhaustible source into which both artistic creativity and rational reflection now and again dip their fevered hands."
The lecture is borne out of a semester-long "special problems" graduate course that Prof. Garcia has been teaching in UP Diliman. The lecture will conclude with a reading of some of Prof. Garcia's own lyric "retellings" of some well-known (and -loved) mythic stories.
Prof. J. Neil C. Garcia earned his AB Journalism (magna cum laude) from University of Santo Tomas, his MA in Comparative Literature and PhD in English Studies: Creative Writing from UP Diliman. He is currently a Professor of English, creative writing and comparative literature at the College of Arts and Letters, UP Diliman.
He is the author of several books of poetry and criticism, including Our Lady of the Carnival (1996), The Sorrows of Water (2000), Kaluluwa (2001), Slip/pages: Essays in Philippine Gay Criticism (1998), Performing the Self: Occasional Prose (2003), The Garden of Wordlessness (2005), Misterios and Other Poems (2005), and Philippine Gay Culture: The Last Thirty Years (1996).
For questions and clarifications, please contact Mr. Ronnie Amuyot through (02) 922-1830.

The lecture is free and open to the public.