Music-Culture Workshop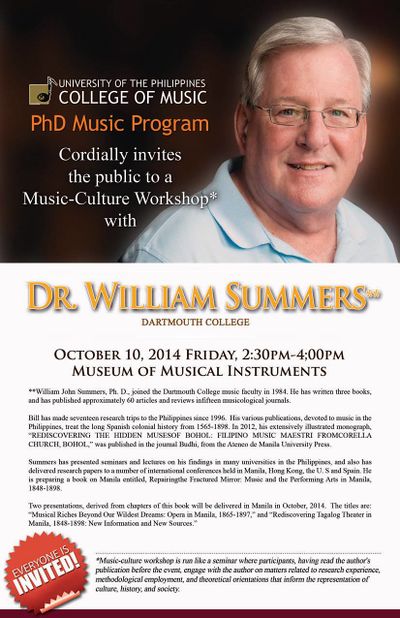 The UP College of Music - PhD Music Program invites everyone to the Music-Culture Workshop with Dr. William Summers! Friday, 10 October, 2:30 - 4:00 pm, at the Museum of Musical Instruments, UP College of Music. FREE ADMISSION!
William John Summers, Ph.D., joined the Dartmouth College music faculty in 1984. He has written three books, and has published approximately 60 articles and reviews in fifteen musicological journals.
Bill has made seventeen research trips to the Philippines since 1996. His various publications, devoted to music in the Philippines, treat the long Spanish colonial history from 1565-1898. IN 2012, his extensively illustrated monograph, "REDISCOVERING THE HIDDEN MUSES OF BOHOL: FILIPINO MUSIC MAESTRI FROM CORELLA CHURCH, BOHOL," was published in the journal Budhi, from the Ateneo de Manila University Press.
Summers has presented seminars and lectures on his findings in many universities in the Philippines, and also has delivered research papers to a number of international conferences held in Manila, Hing Kong, the U.S. and Spain. He is preparing a book on Manila entitled, Repairing the Fractured Mirror: Music and the Performing Arts in Manila, 1848-1898.
Two presentations, derived from chapters of this book will be delivered in Manila in October, 2014. The titles are: "Musical Riches Beyond Our Wildest Dreams: Opera in Manila, 1865-1897," and "Rediscovering Tagalog Theater in Manila, 1848-18-98: New Information and New Resources."
Music-culture workshop is run like a seminar where participants, having read the author's publication before the event, engage with the author on matters related to research experience, methodological employment, and theoretical orientations that inform the representation of culture, history, and society.