More Quizmiz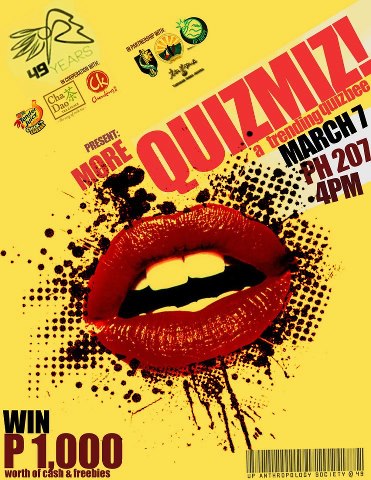 Who co-starred with Vice Ganda in the film Sisterakas? What was the name of the all-female acapella group in the movie Pitch Perfect? Who was the host in the 2013 Oscar Academy Awards?
If you think you're up for the challenge, go to PH 207 with your group composed of two to three people on March 7, 2013, Thursday, from 4:00 p.m. to 6:00 p.m., and join the biggest quiz bee for all the chizmosos and chizmosas out there: More Quizmiz: A Trending Quiz Bee.
For pre-registration, visit http://bit.ly/WfQAS5.
See you there!
Event Page: https://www.facebook.com/events/211773675613793/
Sponsored by: UP Anthropology Society