Modesto Manglicmot
Modesto Manglicmot
Modesto Manglicmot, more commonly known as "Sir Modi", is a famous figure not only within the confines of the University of the Philippines (Diliman), but also in the field of horticulture and bonsai art in the Philippines. Because of his invaluable and extraordinary achievements in Agriculture, as horticulturist, he has been acknowledged as the First Bonsai Master of the Philippines.
Childhood
The oldest son among the five children of Modesto D. Manglicmot, Sr. and Felisa Castelo, Modesto C. Manglicmot, Jr., was born on September 1, 1932 in Cabanatuan City. He grew up in Guimba, Nueva Ecija and acquired his early childhood education there, where his father was a Municipal Treasurer for fifteen years. During his elementary grades in Guimba, he already showed interest in agriculture because his favorite subject was gardening. He always got the highest grades that his teacher gave for the healthy and vigorous vegetables he grew in his garden projects.
When the Second World War broke out, his schooling was interrupted. During the Japanese Occupation, he helped in the family business of growing vegetables in their backyard and around the house.
At the end of the war, the family moved to Cabanatuan where his father worked at the provincial treasurer's office. In 1946, he continued his studies and enrolled at the Nueva Ecija High School. It was also in this year that his parents imported American roses and started a backyard rose garden. The business prospered until flower shops in manila, most specially Ronnie's flower shop in Malate, were being supplied long stemmed roses by the family. The family became known in Cabanatuan for their rose garden business.
Getting into bonsai was only a second choice for Modesto. His first love was actually ballet. He was even a student of the renowned American ballet teacher, Anita Kane. His father though did not approve of his son doing pirouettes on the stage, but he did support Modesto in pursuing a career in growing plants.
After graduation from high school in 1949, he studied at UP Los Banos, where he learned the basics of agriculture. After his studies in Los Banos, he developed a 60-hectare family farm in Gen. Mamerto Natividad, Nueva Ecija and made it productive. He spent about seventeen years in farming, during which he learned more about agriculture.[1]
A Teacher
In 1970, he moved to Quezon City where he became a faculty member of Jose Abad Santos Memorial School (JASMS), PWU Quezon City. He was involved in developing a laboratory farm where social studies, mathematics and life science subjects were integrated to make learning interesting and meaningful to the students. This laboratory farm became known among the education institutions in Metro Manila. It was even duplicated by the UP Integrated School. Education ministers of Southeast Asian countries have visited the farm in the seventies for its innovative contribution to education.
For this achievement, he was awarded "The Most Distinguished Service Award" by the President of the Philippine Women's University. He was also awarded a Certificate of Excellence in Teaching in 1983. He was invited by other schools to speak on this laboratory farm. He became known in other schools in the Philippines, and was elected as one of the members of the Board of Directors of Biology Teachers Association of the Philippines (BIOTA) at its annual convention held at Siliman University, Dumaguete City.
Discovering His Passion for Bonsai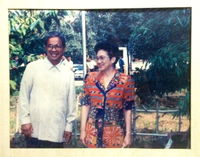 During his stint as teacher in JASMS, PWU, he became interested in the art of Bonsai. It started when he read an article about growing bonsai in Reader's Digest. He initially thought that it was going to be easy, but soon learned that it was actually more complicated than he thought. Nevertheless, he persevered and continued practicing growing bonsais.
In 1980, he became a regular member of the Philippine Bonsai Society, Inc. In the same year, he headed a group of 10 Filipinos to participate in the Biennial Bonsai Show in Japan. When his group mates brought out their bonsais, he felt embarrassed of his own. He felt that his bonsai was inferior compared to theirs. But keeping to his positive disposition, he managed to look at the bright side by saying:
"If my Bonsais are ugly and theirs are pretty, then I will have contributed something to the group also. My Bonsais will provide the contrast between a good and an ugly Bonsai"
In 1982, He attended the Annual Convention and Exhibition of Bonsai and Suiseki in Osaka, Japan . There, he underwent a 4-day training course in Bonsai Art by a Japanese Bonsai Master. At the end of the 4 days, he was surprised to learn that the lessons were for free. Because of this, Mr. Modesto imparted his knowledge on Bonsai Art with other people without charge for the next years of his life. When he was alive, he often has workshops every Saturday, 10AM for free.
He became so serious in this Bonsai Art that he earned the respect of the members of the Philippine Bonsai Society, Inc. He was elected for two terms as its president, serving it for four years.
In 1985, he resigned from his teaching job and put up a Bonsai and ornamental plant garden. His garden at that time was located in Marikina, on a lot lent to him by Meralco, under a contract. Upon the expiration of the contract in the 1990s, he moved his bonsai garden to the Manila Seeding Bank, Quezon City. All those bonsai gardens he kept were open to the public, where entrance was free. In 1998, UP President Emilio Javier offered him a piece of land within the University of the Philippines – Diliman campus for his bonsai collection.
Awards & Achievements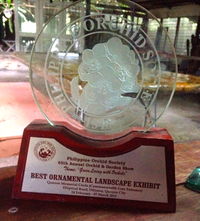 He later became a member of the different garden clubs in Metro Manila, such as the Philippine Horticultural Society, Fern Society of the Philippines, Philippine Orchid Society and Palm Society of the Philippines. He served president of the Philippine Horticultural Society for two terms and also as President of the Fern Society. He was now recognized as one of the authorities in Horticulture and Bonsai, and acknowledged as the first Filipino Bonsai Master. He won numerous awards in the different competitions in annual shows of the stone garden clubs and societies. He was also one of the awardees in 1993 Gawad Awards, Natatanging Anak ng Cabanatuan, in the field of Agriculture.
He has held two one-man Bonsai shows in Manila, one at the Patio Botanico of the National Museum, and another at the Japanese Garden, Rizal Park.
He has conducted seminars in different parts of the Philippines in relation to Horticulture and Bonsai.
In 1995, he donated one of his Bonsais for the fund raising project of the Philippine Business for Social Progress and Makati Garden Club for a reforestation project in Antique. He donated his prized 6-foot red balete bonsai which he called "The Red Shogun". This was auctioned off for P180,000 at the Manila Polo Club in Makati. [2]
Finally, Modesto C. Manglicmot is recognized as one of the top landscapers in Manila. He has landscaped gardens of some of the rich and famous of Metro Manila. He coordinated the setting up of the plants at the PICC for the APEC meeting. He was also requested to exhibit five of his Best Bonsai collections for viewing by the 18 heads of state at the PICC.
People have urged him to put his bonsai up for sale, but he just would not do it, no matter how big his potential earnings where. For him, his bonsai collection was priceless, they were his prized possessions.
Death & Ashes
Modesto C. Manglicmot passed away at the age of 79 last April 3, 2012 in his home in Project 8, Quezon City, due to a complication brought about his diabetes – high blood pressure and kidney failure. A day prior to his death though, he was still able to visit the UP Bonsai Garden and even hold a workshop for 2 interested students.
At the present, people believe that his spirit is still in the UP Bonsai Garden, through his scattered ashes in each of his bonsais.
Notes & References