Let's Doodle It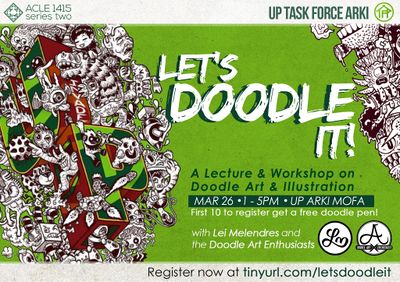 LET'S DO(ODLE) IT!
A Lecture and Workshop on Doodle Art and Illustration with Lei Melendres and the Doodle Art Enthusiasts
An Alternative Classroom Learning Experience brought to you by the UP Task Force Arki
March 26, 2015, 1-5PM at the UPCA MOFA
Register now at www.tinyurl.com/letsdoodleit First 10 to register get a free doodle pen!
See you there!
Know more about Lei, the Doodle Art Enthusiasts, and their works on the following websites:
Lei Melendres: fb.com/iamleight Doodle Art Enthusiasts: fb.com/doodleartenthusiasts Instagram: @doodleartenthusiasts Magazine's Page: www.doodleartsmagazine.com Fb.com/doodleartsmagazine
(c) Illustrations by Lei Melendres
Contact Eufer at 09176001975 for more information.