Fitness Testing and Walk-Run Program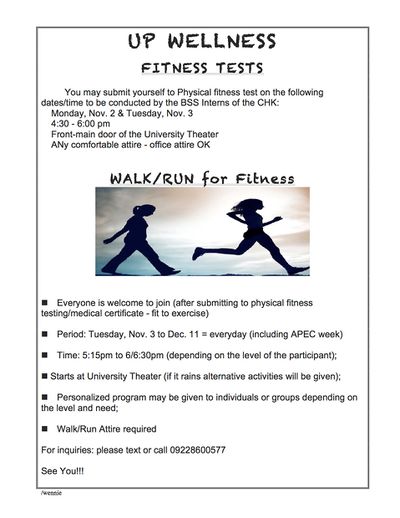 An Invitation from UP Wellness Coordinator:
1. FITNESS TESTS - You may submit yourself to Physical fitness test on the following dates/time to be conducted by the BSS Interns of the CHK:
   Monday Nov. 2 & Tuesday Nov. 3
   4:30 - 6:00 pm
   Front-main door of the University Theater
   ANy comfortable attire - office attire OK

2. WALK/RUN for Fitness - everyone is welcome to join (after submitting to physical fitness testing/medical certificate - fit to exercise)
   Period: Tuesday, Nov. 3 to Dec. 11 = everyday (including APEC week)
   Time: 5:15pm to 6/6:30pm (depending on the level of the participant)
   Starts at University Theater (if it rains alternative activities will be given)
   Personalized program may be given to individuals or groups depending on the level and need
   Walk/Run Attire required

For inquiries: please text or call 09228600577
See You!!!