FRAMING AND EMOTIONS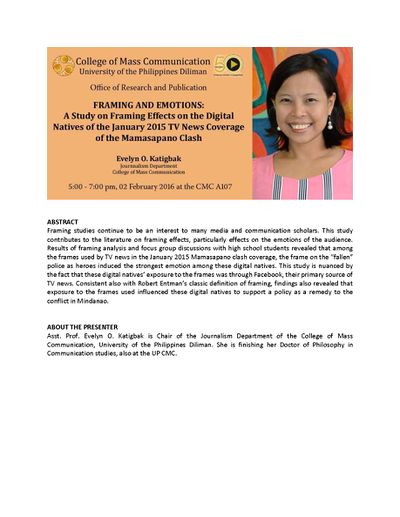 The Office of Research and Publication (ORP) will be hosting an interesting lecture on "FRAMING AND EMOTIONS:A Study on Framing Effects on the Digital Natives of the January 2015 TV News Coverage of the Mamasapano Clash" by Prof. Evelyn Katigbak on 02 Feb, 5:00 pm at CMC Annex Rm A107. https://www.facebook.com/events/1523388514627955/
In this regard, we would like to invite you, as well as your class, to attend the lecture. We hope that the topic and concepts to be discussed would interest you and perhaps spark relevant discussion among your students. Attached is the flyer of the presentation for your reference.
We would like to hear if you or your class would be able to attend presentation. Please don't hesitate to email us at plarideljournal@gmail.com for confirmation or if you have any clarifications.

Thank you very much.
Yours truly,
Prof. Patrick F. Campos Director Office of Research and Publication