Edit Site Homepage
Site General Layout
By default, the site is laid out similar to many web sites. There is a header area where you'll find the photo you uploaded; your name and professional title, address, and, by default, the University shield.
There are three menu options in the primary menu:
Bio/CV
Classes
Publications.

As no content has yet been added you'll otherwise see an essentially blank site.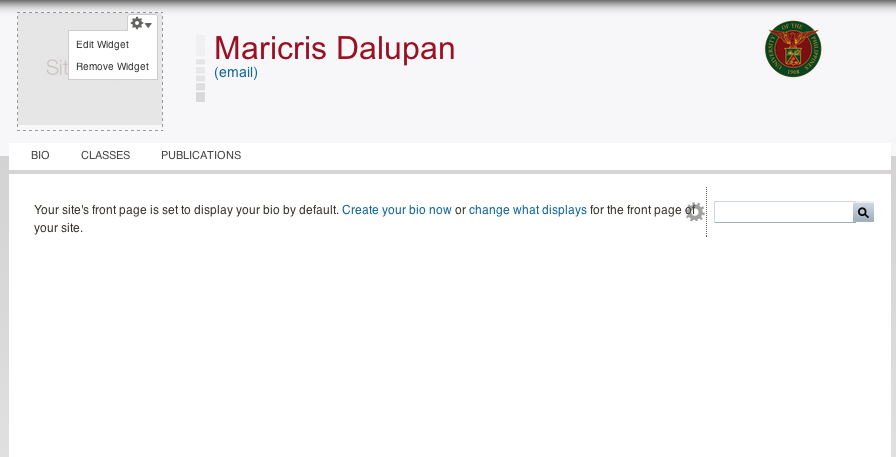 ---
Basics of the Site

As you can see on the image above, there is a dashed-box on the site logo.
Each dashed-line region is called widget. Widgets can be updated by clicking the GEAR icon on the upper right portion of the region.
To change the structure of your site, go to Build>Layout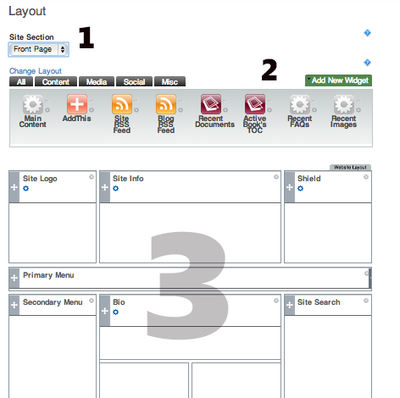 1. Site Section - Choose a site section or a page in your site to edit

These sections are default, you can add more pages.
All Sections
Front Page
Bio/CV
Classes
Publications


2. Widgets - This is a block of customized content that can be added to your site sections.


3. Site Structure


---
See Also