Duomo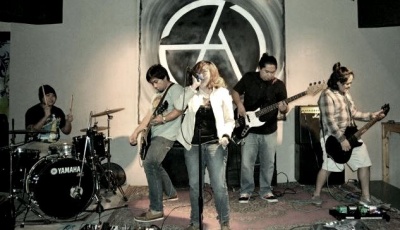 Band Members
Maria Espie Vidal (Vocals)

Angelo Zipagan (Guitar 1)

Cyril Santillan (Guitar 2)

Kozo Lapus (Bass)

Lance Abellon (Drummer)


Band History
Duomo is a quintet female fronted band on power vocals formed in 2011. The band started out as a 'project' band since its members are initially affiliated with other bands.

Duomo began with Gelo's out-of-the-blue idea of forming a female fronted band just for kicks. Espie, on the other hand, was an event / production organizer wherein Gelo's former band has played on several occasions. He invited her for this project band together with his bandmates, Cyril and Zoi, and a friend of theirs, Lance. And in December 11, 2011, Duomo was born.

Due to favorable circumstances, the band eventually decided to drop the term 'project' and united as a band. Since then, Duomo raids the underground rock scene with their intense passion for music.

Contact Details
Email: mariaespievidal@gmail.com
09172472472 - Maria Espi Vidal