Conference.UPD
Overview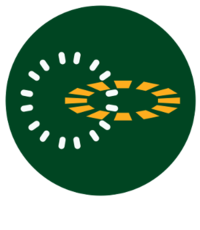 Conference.UPD (conference.upd.edu.ph)

is a tool for organizing scholarly conferences. It enables organizers to
create conference websites
send out calls for papers
accept and review paper and abstract submissions online, without email clutter or overload
register participants
publish conference proceedings
Conference.UPD is based on open conference systems.
Terms of Use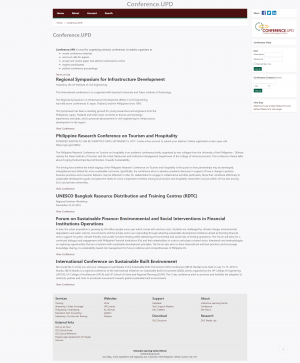 The use of the Conference.UPD service shall be consistent with the University's Acceptable Use Policy.
Conferences organized by UPD faculty or UPD academic units may use the Conference.UPD platform.
Academic staff may also use Conference.UPD to organize conferences, provided that these conferences are sponsored or co-organized by their own institutes or academic units.
Conference.UPD is a do-it-yourself system. For funded conference projects or conferences requiring registration fees from non-UPD participants, organizers may request technical support from DILC, provided that honoraria for DILC staff are considered for their extra work.
Any potential conference participant can register at Conference.UPD and, upon approval of organizers, may be included in relevant conference pages and mailing lists.
New Features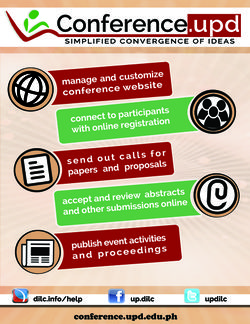 New Themes
Paypal payment integration
Social media buttons
Responsive Layout
User Manual
Timeline
Conference.UPD Start of Development - January 07, 2014
Conference.UPD version 1 released - Februray 27, 2014
Conference.UPD Renamed and New Logo - June 20, 2016
Conference version 2 released and new feature Paypal integration and Themes - March 06, 2018
Developers
John Mark Roco
Jastinne Cesar Macalalad
Ma. Cristina Dalupan
Christian Cedric Cruz