AKYATCON 2.0
AKYATCON 2.0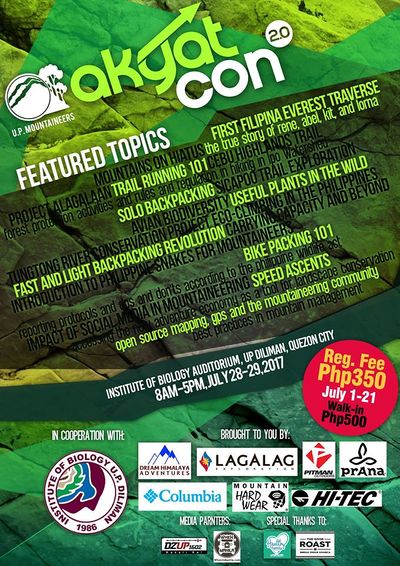 The University of the Philippines Mountaineers,
in cooperation with Institute of Biology, UP Diliman,
presents AKYATCON 2.0 - A national conference on mountaineering and the conservation of mountain environments. It is a venue for professional and leisure hikers, outdoor enthusiasts, local communities, conservation workers, students and academics, national and local government agencies, and other stakeholders to share information, knowledge and experiences.
Now on its second year, AkyatCon 2.0 will feature discussions on mountain biodiversity and conservation, outdoor ethics, mountain-related policies and implementing issues, cultural and gender aspects of mountaineering, explorations and expeditions, emerging/current mountaineering techniques, technologies, issues and trends in mountain sports. With the growing popularity of mountaineering as a sport and a leisure activity, UPM would like to highlight these topics in order to raise the technical knowledge and awareness of local climbers and promote responsible mountaineering.
Pre-registration: P350 Walk-in: P500 First 300 participants will receive the free AkyatCon kit. REGISTER NOW! Visit http://akyatcon.upmountaineers.org/.
For updates and announcements, go to https://www.facebook.com/events/1539391682748087/ or use the app Eventbase (Search: Akyatcon 2.0).
For inquiries, contact 0956-489-3262 (globe) or send an email to akyatcon@upmountaineers.org.
This event is brought to you by: Dream Himalaya Adventures Pvt. Ltd Pitman Outdoors PH Columbia Sportswear Mountain Hardwear PH Hi-Tec Philippines prAna PH Lagalag Store Manila
Special Thanks to: Healthy Family Purified Drinking Water Good Roast Coffee by Cordillera Conservation Trust
Our media partners: When In Manila DZUP
AkyatCon2017 #upmountaineers