UpCurrents
upCurrents is a personal updater for things UP (University of the Philippines). It automatically gathers UP-related news, updates, RSS feeds, videos, event calendars (music, sports, arts, academic). upCurrents also plays UP-FM, an online music radio of the university, and DZUP. More info: dilc.info/currents || Support: dilc.info/help || Facebook.
upCurrents now collects updates from the following sites:
OICA and its tweeter feed
GoogleNews RSS on "University of the Philippines"

Many UP sites should be included but the challenge is that they're not RSS-ready.
Mobile Download


Features
Both upCurrents site and mobile app
updates aggregated from various official sources
upCurrents Site
geotagged updates
quick sharing of updates using Facebook, Twitter or email
content embedding using the ff html codes that you can cut and paste into your
watch youtube video channel
plays UP-FM
upCurrents Mobile
Opportunities for Instructional Engagement
production, curation, and distribution of creative and research work
presentation of student and faculty outputs
Q & A
Will upCurrents replace actual visits to different sites?

No. upCurrents only collects parts of stories found in UP websites. To view the full story, one has to visit the online site concerned. The app encourages access of UP sites used in upCurrents.
Why is my unit's update not on upCurrents?
It's possible that your website has no RSS capability. Please coordinate with DILC to remedy the situation.
Development Team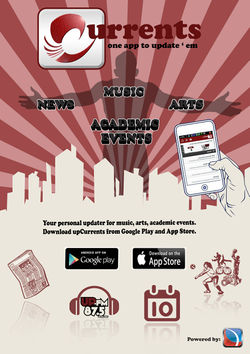 upCurrents Site (RC)
Althene Faustine Labog
James De Dios
upCurrents Site (beta)
Eriel Bondoc
Glaiza Marie Enriquez
Erickson Sombillo

upCurrents Mobile (v2.2.3.x)
upCurrents Mobile (v2.x)
upCurrents Mobile (v1.0)

Janice Cereno
Mary Kristine Flores
Febbie Ann Navis

Project Management
Ma. Cristina Dalupan
Daniel Villareal
Darwin Gonzales
Feedback
Comments, suggestions are most welcome. Email them to dilc@dilc.upd.edu.ph
To Do
Events (via iskwiki)
thumbnail photos for news items
campus-specific, status-specific (student, faculty, staff, alumni, parents) initial setup
UPNionator
Known Issues
error in parsing some non-rss pages
impartial fetch of some non-rss pages
In the News