Difference between revisions of "UP School of Statistics"
Line 177:
Line 177:
 

''Telephone Numbers:'' (+632) 929-2875 / (+632) 981-8500 local 3503 <br />

 

''Telephone Numbers:'' (+632) 929-2875 / (+632) 981-8500 local 3503 <br />

 

''Telefax Number:'' (+632) 928-0881 <br />

 

''Telefax Number:'' (+632) 928-0881 <br />

−

''Email Address:''  updstat@yahoo.com / stat@up.edu.ph[[Image:UP_Stat_Site_Map.jpg|700px|center]]

+

''Email Address:''  updstat@yahoo.com / stat@up.edu.ph

 
 
 
 
---
Revision as of 20:17, 8 May 2018
History
The UP School of Statistics was established in 1953 as the Statistical Training Center, then later as the Statistical Center under a bilateral agreement between the Government of the Philippines and the United Nations. Its primary objective then was to work towards the improvement of statistical services in government. Ten years later, the Center was formally turned over to the University of the Philippines, and in 1964, the U.P. Board of Regents approved the Bachelor of Science (Statistics) program of the Center. The B.S. (Statistics) program was implemented beginning AY 1967-1968. [1]
In 1998, the Statistical Center changed its name to the School of Statistics in order to reflect its expanded character as a degree-granting institution. At present, the School of Statistics offers one undergraduate program and three graduate programs. These are B.S. (Statistics) program, the Master of Science (MOS) program, M.S. (Statistics) program, and the Ph.D. (Statistics) program. Through these programs, the School of Statistics has produced numerous distinguished statisticians in various professions and is widely recognized as the primary source of statistical expertise for the Philippine Statistical System and Industry. Cite error: Closing </ref> missing for <ref> tag
Academic Programs
Undergraduate programs
Bachelor of Science (BS) in Statistics
The BS Statistics program is a four-year course that provides students with a sound understanding of statistical methods – their underlying theories and their applications. It aims to prepare the students for immediate work as statisticians in government, industry, and research institutions. The program also aims to provide students with a good foundation in pursuing graduate studies in statistics or other related fields.[2]
The program equips students with the necessary skills to design studies, analyze data, manage, and process data using a variety of software packages, and communicate the results of the study to the end-users. This provides the graduates of the program with professional flexibility and exciting opportunities for rewarding careers in different fields such as business analytics, biostatistics, market research, econometrics, actuarial science, official statistics, development studies, statistical computing, and programming.[2]
Graduate Programs
Master of Statistics (M.O.S)
The Master of Statistics program aims to produce practitioners who are knowledgeable in statistical methodologies and capable in the practice of general statistics and in some key areas.[3] The MOS program also aims to prepare the students to meet the needs of industry and government for statistical personnel at the supervisory level. The students are provided with a sound understanding of statistical concepts and methods and their applications. The MS and the PhD programs aim to improve the quality of graduates and prepare them for jobs not only in the academe and in research but also in one or more of the following areas: business, economics, industry, social science, natural sciences, among others.[4]
Master of Science (M.S.) in Statistics
The MS Statistics program prepares its graduates for advanced level work in the profession as well as provides them the necessary foundation for high quality PhD work both in the theoretical and practical aspects.[5]
Doctor of Philosophy (Ph.D.) in Statistics
The Doctor of Philosophy in Statisrics is a graduate program which provides students with an advanced background in statistics to enable them to participate in the development of statistical methods. Emphasis is placed on training in basic research. [6]Seminar and reading courses are incorporated into the PhD program, besides lecture courses, in order to meet the individual requirements of the student's program of research.[7]
Administration and Faculty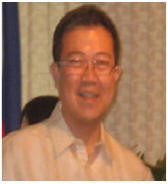 College Officials[8]
Faculty[9]
Professors
BARRIOS, Erniel B., Ph.D.
BERSALES, Lisa Grace S., Ph.D
REY, Reynaldo Romualdo, Ph.D.
TABUNDA, Ana Maria L., Ph.D.
Associate Professors
MAGADIA, Joselito C., Ph.D.
MAPA, Dennis S., Ph.D
SARTE, Genelyn Ma. F.
TEJADA, Jeffry, Ph.D
Assistant Professors
ALMEDA, Josefina V.
CAMPANO, Wendell Q.
CAPISTRANO, Therese G.
CAYTON, Peter Julian A.
CRISTOBAL, Cherryanne Y.
DAQUIS, John Carlo
DE LOS REYES, Francisco N.
GIRON, Maureen Dinna D.
JAVELOSA, Mark Anthony U.
LABINA, Charlie S.
LANSANGAN, Joseph Ryan G.
NALICA, Angela D.
PATUNGAN, Welfredo R., Ph.D.
PUNZALAN, Joyce Raymond B.
SANTOS, Kevin Carl P.
SOTTO, Christina Remedios L.
Instructors
ALBIS, Manuel Leonard F.
GAURAN, Iris Ivy
LUCAGBO, Michael Daniel
NABIA, Jovel
RIGONAN, Madel
YAP, Ma. Regina Pauline
Facilities and Services
U.P. Stat Library
The School maintains one of the best statistics libraries in the country, with new titles continuously being added to its already sizable collection. It subscribes to 25 titles of foreign statistical journals, including the online version of databases of journal compilations the University subscribes to.[10]
The U.P. School of Statistics Library is a college library which gives bibliographic and reference support to the school's program of academics in service training, research, and consultation. Its collection is limited to statistics and related fields like demography, economics, computer programming, social survey, etc. The library is located at the north wing of the new building of the School of Statistics (old CSWCD Building). It is open for service from 8:30 am to 12:00 nn. and 1:00 pm to 6:00pm on weekdays and from 8:00 am to 12:00 nn. during Saturdays. Library privileges are accorded to all faculty, alumni, and regular students of the University of the Philippines and to all government officials and employees subject to existing library rules and regulations.[11]
When the Statistical Center was established in December 1953 by virtue of an agreement concluded between the Philippine Government and the United Nations, one of the basic provisions of this Agreement was the maintenance and supervision of an adequate statistical library. Thus, the Statistical Center Library was Founded. From its initial collection of 500 books, which was largely a result of donations from the United Nations Technical Assistance Administration and from other agencies both local and abroad, the library has sought to strengthen and expand its collection through the years.
This challenging task was first entrusted to UP College Manila librarian, Perla Palacsil who was at the same time librarian-in-charge of the College of Public Administration and the UP Extension Division Davao library. She was also assisted by Mrs. Asuncion De Chavez, assistant-in-charge regarding the maintenance and servicing of the Statistical Center Library. Moreover, the UP College Manila staff, along with student assistants, serviced the UPCM library which was overcrowded and lacking in space. The STC Library, housed at Rizal Hall, shared its space with five other unit libraries -- UPCM library itself, Public Administration, Population Institute, Local Government Center and the Philippine Executive Academy.
Hence in 1979 the SCT Library collection was temporarily and jointly housed with the College of Business Administration collection at the 1st floor of the new CBA building in Diliman and at the Reserve-Circulation Section at the 5th floor. The combined resources of the Business and Statistical Center libraries were organized into a BS/STC collection and housed in the 1st floor of the Business library. The collection was designed to meet the curricular and research requirement of graduate and undergraduate students, faculty members, staff, and alumni of both colleges.[11]
The resources of the Library are divided into the following categories:[11]
COMPUTERIZED SEARCH
Online Public Access Catalog (OPAC)
INTERNET SERVICES
ONLINE SUBSRCIPTIONS

PROQUEST Academic Reserach Library Group'
Asia Pacific Limited (ACM Digital Libraries;
ACS Journals, AIP/APS Journals, etc.)

REFERENCE BOOKS
CIRCULATION BOOKS
RESERVE BOOKS
U.P. Statistical Computing and Consulting Laboratory
The U.P. School of Statistics' Statistical Computing and Consulting Laboratory houses powerful computers equipped with the latest statistical software like SAS, SPSS, Stata, Eviews, and Minitab. [10]It is composed of three laboratories: Computer Labs 1 and 2, where classes are usually held; and the Faculty Lab, where the U.P. Stat Faculty members usually do consultation and other academic-related work. There are 24 computers in Computer Lab 1, 23 computers in Computer Lab 2 and 3 computers in the Faculty Lab. Undergraduate classes such as Statistics 124 (Introduction to Programming) and Statistics 125 (Applications Software and Software Packages), as well as some graduate classes are usually held at Computer Lab 1.[12]
New UP School of Statistics Building[13]
As the School of Statistics approaches its 60th year in 2013, a new building will be constructed to accommodate the growing population of students and the expanding research activities of the faculty. The 4-storey complex will be divided into two phases.
Phase 1 will accommodate classrooms, library, computer laboratories, conference rooms, and faculty rooms.
Phase 2 will include additional classrooms, training rooms, discussion rooms (for graduate students and study groups), research support facilities, two 150-seater lecture halls, 400-seater auditorium, student area, and cafeteria.
At present, the Architectural and Engineering Design (AED) is being developed and is due in April 2012. Construction of Phase 1 will start within 2012 to be completed by 2013.
In the meantime, the School will temporarily hold classes and offices in another building starting second semester AY 2012-2013 to give way for the construction of the building in the same site along Magsaysay Avenue.
UP School of Statistics Students Organizations
Directory[14]
'Address: Magsaysay St., University of the Philippines, Diliman
Telephone Numbers: (+632) 929-2875 / (+632) 981-8500 local 3503
Telefax Number: (+632) 928-0881
Email Address: updstat@yahoo.com / stat@up.edu.ph
External Link
Official Links
References