UP Sangkil Karasak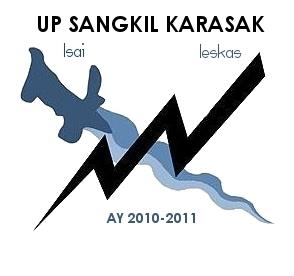 The UP Sangkil Karasak is a club dedicated to the practice of arnis, specifically the LSAI/LESKAS style of arnis. It began in 1991 as an informal club by the late Master Elmer Ybanez who founded LESKAS (Lema Scientific Kali Arnis System), and who was the most trusted student of Grandmaster Benjamin Luna Lema, the founder of LSAI (Lightning Scientific Arnis International). The LSAI itself was founded as early as 1937 in Capiz, Panay. The UP Sangkil Karasak was first officially recognized by the Office of Student Affairs in 2002. The name "Sangkil Karasak" means spear and shield, as a reminder of the native Filipino roots of arnis that reach far back as pre-Spanish colonial times.
In the unfortunate passing away of Grandmaster Benjamin Luna Lema on January 4, 2003, and his immediate successor Master Elmer Ybanez on March 31, 2004, the direct leadership of the club was handed over to their students. As of 2009, the active masters of the club are Master Felipe Bot Jocano, Master Nathan Dominguez, and Master Alex Ortinero.
Currently, training is scheduled every Tuesday and Thursday, 4pm onwards, at the Classroom 2 of the DMST Complex, UP Diliman.
Officers
Members
Activities
Announcements
See Also