UP Marine Science Institute

History
The University of the Philippines Marine Science Institute (UPMSI) was originally established as the Marine Sciences Center (MSC) with the approval of its charter by the Board of Regents on 28 March 1974. MSC served as the University's coordinating base for marine research. In June of the same year, the first Advisory Executive Council of the Center was formed with the appointment of Dr. Edgardo D. Gomez as acting Director.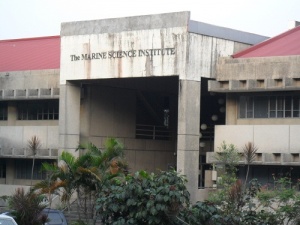 The Center commenced its operations in February 1975 at the building of the U.P. Natural Sciences Research Institute. With its transformation into an institute on 23 April 1985, UPMSI began offering graduate programs.
It is now tasked to pursue research, teaching, and extension work in marine biology, marine chemistry, physical oceanography, marine geology, and related disciplines.

Performance
In the last 26 years, UPMSI has grown from a complement of less than 10 to about 150 personnel, the majority of whom are professional staff.
Through the years, UPMSI has made a significant contribution to tropical marine science. In 1995, MSI had 1.0 international refereed publication per PhD per year, the highest among academic institutions in the country.
At the national level, these contributions form the bases of policies that guide the research and development programs of the country. In recognition of its achievements in research and instruction, the Institute has received numerous awards from both government and private organizations. On 15 December 1994, UPMSI was designated the "National Center of Excellence in the Marine Sciences" by Presidential Proclamation No.518.

Linkages
UPMSI undertakes collaborative research with local, national, and international agencies. UPMSI, for example, has served as a major implementing agency in various ASEAN marine science programs. UPMSI is also represented in a number of national and international committees and organizations concerned with marine resources and the marine environment. Many of the staff are members of professional organizations and editorial boards of local and international journal.
Academic Programs
The Institute grants MSc and PhD degrees in Marine Science with specialization in Marine Biology, Marine Physical Science and Marine Biotechnology. Other fields of specialization in the marine sciences will be offered in the future as the capabilities of the Institute expand.
Graduate students are given the opportunity to do their thesis research in the context of existing research programs in the Institute. The MSI, through occasional grants, offers a limited number of scholarships to qualified students. More commonly, research assistantships in various ongoing projects are available to graduate students.
Directory
9818500 local 2903
9223921
See Also
MSI Home Page http://www.msi.upd.edu.ph/web/index.php?option=com_frontpage&Itemid=1 ]