Difference between revisions of "UP Geological Society"
m

Line 4:
Line 4:
 
 
 

==History==

 

==History==

−

== Officers: 2nd semester 2011 - 1st semester 2012==

+

== Officers: 2nd semester - 1st semester ==

 
 
 
 
−

'''President:''' Kimberly A. Ilao

+

'''President:''' .

 
 
−

'''VP for Internal Affairs:''' Corinne Mae M. Estrella

+

'''VP for Internal Affairs:''' .

 
 
−

'''VP for External Affairs:''' Dana Marie R. Sunga

+

'''VP for External Affairs:''' .

 
 
−

'''Secretary:''' Angel Renel M. Yu

+

'''Secretary:''' .

 
 
−

'''Treasurer:''' Jolly Joyce S. Sulapas

+

'''Treasurer:''' .

 
 
−

'''Academics Committee Head:''' Vergel T. Marteja Jr.

+

'''Academics Committee Head:''' .

 
 
−

'''Logistics Committee Head:''' Raquel P. Felix

+

'''Logistics Committee Head:''' .

 
 
 
 
Line 28:
Line 28:
 
 
 

<gallery>

 

<gallery>

−

Image:222755 10150167220528519 521308518 6743295 4592105 n.jpg|President Kim Ilao

+

 

−

Image:400109_2767541121454_1645725380_2420605_1557327612_n.jpg| VP for Internal Affairs Corinne Mae Estrella

 
−

Image:163817 194495003901355 100000225698341 824682 2293810 n.jpg|VP for External Affairs Dana Marie Sunga

 
−

Image:249836_2029769579815_1111355153_32443525_4731110_n.jpg|Secretary Angel Renel Yu

 
−

Image:Jolly.jpg|Treasurer Jolly Joyce Sulapas

 
−

Image:Vergel.jpg|Academics Committee Head Vergel Marteja Jr.

 
−

Image:Raki.jpg|Logistics Committee Head Raquel Felix

 
 
 
 

</gallery>

 

</gallery>
---
Revision as of 00:49, 11 June 2013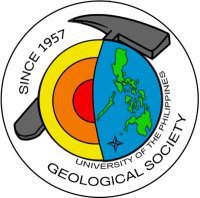 The University of the Philippines Geological Society (UP GeoSoc) is a duly recognized college-based (UP College of Science) academic organization. The society promotes the advancement of the Geological Sciences among the student body, its increasing membership and the local academic community. Composed primarily of BS Geology students, the UP GeoSoc is based at the National Institute of Geological Sciences (NIGS) at UP in Diliman, Quezon City, Philippines. For the past years, the society has been venturing into projects promoting the Geosciences through exhibits and fun filled activities, among others, inside and outside the walls of the university.
History
Officers: 2nd semester 2012 - 1st semester 2013
President: Gabriel Theophilus V. Valera
VP for Internal Affairs: Mary Rose P. Gabuyo
VP for External Affairs: Jolly Joyce S. Sulapas
Secretary: Marie Krystel D. Hugo
Treasurer: Regina Marie J. Maximo
Academics Committee Head: Barbie Ross B. Villaplaza
Logistics Committee Head: Ivy Kim B. Tabios

Faculty Adviser: Noelynna T. Ramos, D.Sc.
Members
Resident Members (2nd semester 2011-2012):
Amponin, Ezekiel Victor M.
Balido, Mark Jim G.
Biscaro, Jan Rodney D.
Buena, Alfred Elmer B.
Cababan, Bryan M.
Cabalza, John Troy J.
Canta, Claris T.
Custodio, Lawrence T.
David, Jethro Antonio C.
Dion, Carl F.
Dulay, Karla Reinelle N.
Ereno, Anjoneil P.
Estrella, Corinne Mae M.
Felix, Raquel P.
Fernandez, Adriel Dominic C.
Ferrer, Peter Khallil F.
Gabuyo, Mary Rose P.
Galarosa, Rosanno Seth C.
Gonzalo, Lia Anne L.
Guevara, Stephen Kenneth L.
Hugo, Marie Krystel D.
Ilao, Kimberly A.
Laroco, Harriette Olivienne C.
Madrigal, Madonna Feliz B.
Mahor, Margarita Andrea P.
Mancenido, Chryselle Ultima O.
Mariscal, Carla D.
Marteja Jr., Vergel T.
Maximo, Regina Marie J.
Mendoza, John Paul .A
Montalbo, Kristina Rochelle P.
Pacle, Nichole Anthony D.
Poblete, Sandra C.
Reyes, Jonathan Kit C.
Sulapas, Jolly Joyce S.
Sunga, Dana Marie R.
Tabios, Ivy Kim B.
Valdellon, Karla Angelique S.
Valera, Gabriel Theophilus V.
Villaplaza, Barbie Ross B.
Viloria, Leander Francis C.
Yu, Angel Renel M.
Yu, Conchitina Cleofe C.

Alumni:
Activities
MAJOR ACTIVITIES
1. GeoQuiz (October)
The Geoquiz has been an annual competition held by the organization since the year 2000. The main objective of the event is to promote geosciences especially to those who are still in high school. Students from different schools in Metro Manila and nearby provinces are invited to join the competition. As an organization who knows the role of geosciences in our community, we would like them to realize its importance and that it is not only confined to identifying rocks but is a very broad field of learning.
2. High School Workshops (October)
UP Geosoc will once again organize geology based activities and lectures for select high school students which will serve as supplementary sessions to their earth science curriculum. We will be inviting science high schools in the Metro over to NIGS where there will be both lectures and hands-on modules that will feature the different studies of Geology. We hope that this experience will institute their interest in this study and hopefully they will choose it as a career for the advancement of geology in the Philippines.
3. Binibini Ba'to? (February)
This event is the annual cross-dressing pageant for the College of Science students. Male representatives from the different organizations participate in this event. This serves as a venue for healthy competition between the organizations as well as to discover the hidden talents and creativity of College of Science students in this unique event.
MINOR ACTIVITIES
1. Geologs Quiz Show (July)
This is an interactive contest about everything and anything under the sun. This activity will provide fun and enjoyment for the students. It will not only be fun but also informational. This will also be one way of promoting camaraderie among organizations. Questions from the names of real-life actors/actresses to the tiniest details we barely notice in our everyday UP life will be asked. Some might be nonsensical but then, that's all we need sometimes, a little sense of humor.
2. Exhibit (July)
The exhibit will be displayed for a whole week at the NIGS lobby open for both Geology Majors as well as other UP students to see. The design and theme of the exhibit will focus on the development of geology in the Philippines and the advancements it has made throughout the years. Coherent to this year's theme (2011-2012) entitled: GEOSOC soars at 54: Reaching new heights for the advancement of Philippine Geology, we intend to gather accounts about the history of geology in the Philippines, its current state as part of academe and industry, and most importantly, the advancement of geosciences in relation to the state of our country.
3. Wet 'n Wild (July)
This is an amazing race-type event open to the students of the College of Science for healthy competition and fun. The tasks are aimed to raise awareness in environmental issues and concerns facing both the University and the country.
4. Tutorials
As an academic organization, one of our prime concerns is the academic well-being of our members as well as our fellow geologists-in-training. As such, we will offer tutorials for geology majors regarding major subjects both in geology and in science: field methods, rock identification, basic Earth Science, calculus, physics, chemistry, surveying, and others. This is to supplement and improve what is discussed in class in preparation for their respective examinations.
5. Valentines Special Activities (Luv-A Flow) (February)
To celebrate this special holiday, UP GeoSoc makes several fun activities available to the NIGS community as well as the College of Science student body. Some of these activities include a marriage booth, a date search, and roses and chocolate selling.
6. Outreach (February and December)
Last February 2011, UP Geosoc participated in the medical mission hosted by the UP College of Science. This year, as doing our part in the community, UP Geosoc will continue to participate in medical mission and in activities of Gawad Kalinga. This project aims to support the marginalized sectors of our community by working together and instilling selflessness and generosity within our members towards the community.
7. Photocontest/Exhibit (November)
In line with the goal of propagating geosciences, the students are encouraged to pass photos focusing the geology of the Philippines. This competition will also showcase the imagination and technical know-how of undergraduate students, faculty, and staff.
Announcements
Make the Luv-A Flow: February 06-09, 2012
Prom Night: February 09, 2012
Binibini Ba'to?: February 23, 2012
See Also
U.P. Geological Society E-Bedrock:
U.P. Geological Society Facebook Fan page