UP Club for the Environment and Tourism
UP Club for the Environment and Tourism
UP Club Ecotour


Established
1996
Motto
"Nothing Synthetic"
Type
University-wide Organization
Location
UP Asian Institute of Tourism
Website
http://upecotour.multiply.com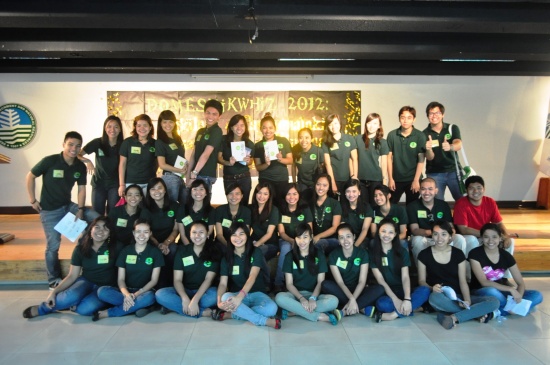 History
UP Club for the Environment and Tourism or UP Club Ecotour is a university-wide student organization based in UP-Asian Institute of Tourism.

Founded in August 1996 by Mr. Percivil M. Carrera, an Economics student, the Organization has always been in the frontline of things, especially if it is relevant with the org's objective that is promoting environmental awareness and domestic tourism.

Mission of the Organization: UP Club Ecotour commits itself to integrate the concept of environmental protection with tourism by spearheading projects and activities through provision of opportunities that would unify and increase awareness among its members.

Vision of the Organization: The vision of the organization is to be the prime mover in upholding the concepts of ECOTOURISM inside and outside the university.
Officers
President: Lovely Dawn Rumbines
VP Internals: Wilhelmina Choy Gabriel
VP Externals: Julien Marie Aberin
Secretary: Jamie Austria
Finance Officer: Maica Marifel Horigue
PRO: Jeremy Ryan Castelo

Committee Heads:
Publicity: Po Teresa Santiago
Marketing: Carl Nathaniel Natividad
Civic: Maria Hyacinth Margaret Famarin
Membership: Olaf Miguel Bautista
Finance: Rozelle Perucho

Members
Publicity:
Dreiann Ablaza, Jake Crisologo, Hya Famarin, Jam Pojas, Po Santiago
Marketing:
Serene Jaucian, Rozelle Perucho, Darline Salazar, Ena San Andres, Paulo Sotto
Civic:
Ceejay Boller, Philip Hidalgo, Claudine Monsale, Carl Natividad, Danielle Pantaleon
Membership:
Har Bautista, Miggo Bautista, Choy Gabriel, Argine Norona, Shaina Santiago
Finance:
Julien Aberin, Jamie Austria, Monique Florendo, Lovely Rumbines
Activities
UP Club Ecotour spearheads projects and activities that are in line with its ideals.
ECOSKOOL
members get a chance to share their passion for the environment by teaching grade school students the Basics of The Environment (BOTE). Ecoskool is held every 2nd or 3rd month of August.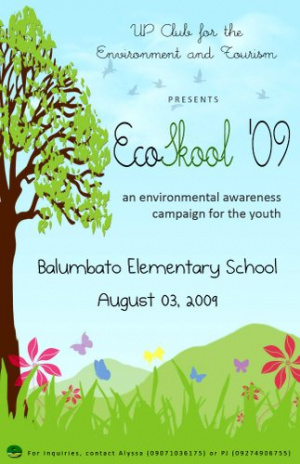 ECOTOURISTA
held every 3rd or last week of March. A coastal clean-up and mangrove-planting activity.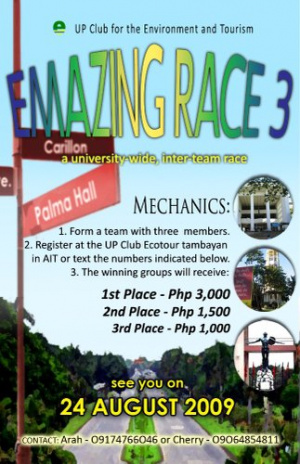 GREEN TREAT
– an activity in partnership with UP Gawad Kalinga which aims to serve and help our less fortunate brothers and sisters.
E-MAZING RACE
a kick-off celebration held before the anniversary week. Teams of students from UP Diliman race around the campus for camaraderie, and development of their physical and mental skills as well as their cultural and environmental awareness.


ANNIVERSARY WEEK ACTIVITIES
held every last week of August to mark the foundation of the organization. Activities include: Gallerie (Showcasing the organization's previous, present and future activities), Green Shirt Day (Environmental awareness campaign. Speakers from DENR and Greenpeace are invited. UP Students are encouraged to wear green shirts during this day), Grand Pakaen (Students get their fair share of food at a low price).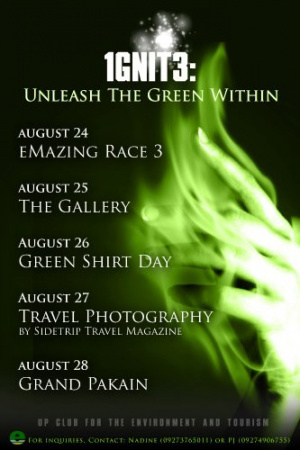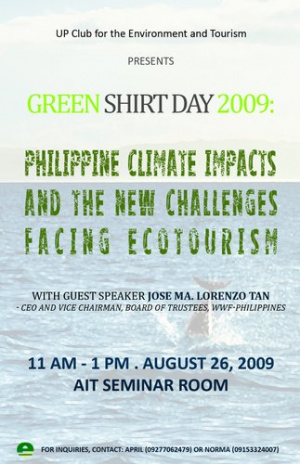 DOMESTIKHWHIZ
held every 2nd week of February. An inter-collegiate quiz bee about domestic tourism. Students from different colleges and universities in Metro Manila are invited.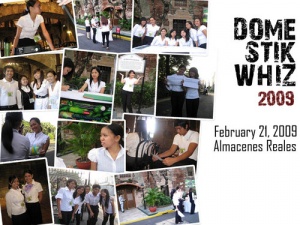 See Also