UP Association of Civil Engineering Students
UP Association of
Civil Engineering Students (UP ACES)



Founding
July 1954
President
Joshua Philip Suarez '13B
Category
Academic Organization
Motto
Academic Excellence and Professional Formation
Affiliation   
none
Location
G/F Melchor Hall, University of the Philippines Diliman Quezon City, Philippines 1101
Website
http://www.upaces.org
E-mail
execom@upaces.org
The University of the Philippines Association of Civil Engineering Students (UP ACES) is the premier civil engineering organization of the University of the Philippines College of Engineering (UP CoE). For 60 years, the organization has ensured the formation of outstanding and well-rounded civil engineers, producing consistent topnotchers in the CE board exams as well as distinguished and respected alumni and faculty in the College of Engineering. As one of the oldest and recognized organizations in the college, UP ACES continues to promote academic excellence, versatility, and camaraderie among its members.
UP ACES is based in the Institute of Civil Engineering of the UP College of Engineering.
History
UP ACES was founded in July 1954 by Reynaldo S. Alberto, Claudio B. Altura, Bernardo O. Armeña, and Ramon C. Arroyo. The organizational structure then was informal. All students of Civil Engineering were automatically a member of the organization. It wasn't until October 4, 1957 that UP ACES gained official recognition. During its early times UP ACES was a male-only organization. There was a need to import muses from other colleges. The UP ACES Stag and application process eventually became a requirement for its applicants during this time.
In July 31, 1969 the maiden issue of BEAM – a UP ACES monthly publication – was released, its founders being Felicisimo Ver Jr., Antonio David and Pedro Herrera Jr.
Conceived as early as August, 1969, an inter-university group called the Association of Civil Engineering Students virtually served as a guarantee that the various ACES's of FEATI, Far Eastern University, Mapua Institute of Technology, Manuel L. Quezon University, National University, Polytechnic University of the Philippines, University of Santo Tomas, and the University of the Philippines would continue to promote academic and professional growth. As a conglomerate, it served as the PACE (Philippine Association of Civil Engineers) Student Chapter.
From January 8 to 10, 1971, PACE Student Chapter sponsored the First National Convention of Civil Engineering Students on "New Developments in Civil Engineering Practice" at the Auditoriums of FEU and UST. A few months after, difficulties concerning the coordination of activities were encountered. Consequently, during a meeting November 30, 1971 among UP, UE, NU, CCP and AU, it was proposed that a body which is autonomous, though not necessarily independent of the PACE, be formed and be governed by a board of directors, Such a body was to take charge of coordination of activities among the various ACES groups.
During another meeting in January 1972, it was agreed to call the new consortium the Philippine Association of Civil Engineering Students (PACES). The succeeding move was the drafting of a constitution. However, the PACES was short-lived because of the declaration of martial law by President Ferdinand Marcos.
During the eighties, UP ACES started to organize the Civil Engineering Quiz, a Metro Manila-wide quiz show. However the CE Quiz was short-lived and was only revived again in 1993. Two years after its revival, the Civil Engineering Quiz evolved to be a nation-wide competition and is now known among civil engineering schools as the National Civil Engineering Quiz.
In 2006, UP ACES upgraded the National Civil Engineering Quiz and integrated it into a week-long event, the Civil Engineering Summit (which also gained a National status last 2007). To complement the National Civil Engineering Quiz, the National Civil Engineering Symposium, along with other events were added on the National Civil Engineering Summit. Last time, the National Civil Engineering Summit catered to more than four thousand high school students, civil engineering students and professionals.
UP ACES currently has more than 140 members, all of which are actively participating in UP ACES events and contributing to the organization's growth. UP ACES used to open its application period every July for the first semester and January for the second semester. However, due to the university's academic calendar shift that started in 2014, UP ACES now starts its application period every September and February for the first and second semesters, respectively. The organization's governing body, the Executive Committee, is composed of 14 members, 8 of which has its own committees. UP ACES holds its annual elections for the 10 elective positions every December while 2 application heads will be appointed each semester.
President: Joshua Philip Suarez '13B
Vice President for Internal Affairs: Miguel Eduardo Diaz '12B
Vice President for External Affairs: Jose Maria Ferdinand Calaunan '13B
Executive Secretary: Danielle Erika Torres '14A
Executive Treasurer: Alizon Jean Serrano '14B

Committee on Academics Chairperson: Aivan Dredd Punzalan '14A
Committee on Lounge Management Chairperson: Kathleen Lim '13B
Committee on Professional Formation Chairperson: Timothy John La'O '13B
Committee on Publicity Chairperson Chairperson: Nikka Marie Sales '13B
Committee on Sports and Recreation Chairperson: Frances Margarette Verzosa '14B

16B Application Heads: Lorenzo Carlo Porciuncula '15A & Beatrice Buenvenida '13A

2015: Georgia Mae Asistin '11B
2014: Paterno Miranda IV '10A
2013: Justin Ray Jacildone `09B
2012: Ralph John Barte `09A
2011: Jan Mikhail Ynion `08A
2010: April Dianne Malabuyoc `06A
2009: Edsel Parades `04A
2008: Diocel Harold Aquino `04A
2007: John Tristan Lanting `04B
2006: Rachel Ann Apuan `02A
2005: Charlene Hazel Tan `02A
2004: Vanessa Salas `02A

National Civil Engineering Summit
Jumpstart
During the first day of National Civil Engineering Summit, together with a Ribbon Cutting and an Opening Mass, an event entitled "Jumpstart" is launched at the UP College of Engineering. It starts the NCES right by creating a perfect atmosphere of giving back to the College participated by over 500 CE department faculty, staff, maintenance personnel, and students through a Grand Pakain.
InCEthink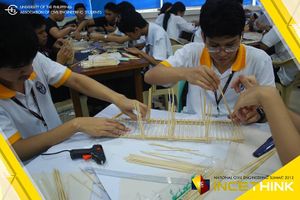 InCEthink, a bridge building competition open for high school students, is an event that draws together the future leaders of the nation in a fun competition of creativity and innovation while discovering civil engineering in action. Up to 30 teams of 3 high school students participate in this competition.
High School Career Talk And Open Lab Tour
The High School Career Talk is a seminar that aims to introduce Civil Engineering to high school students. On the other hand, the High School Open Lab Tour is an interactive excursion of the laboratories and facilities of the UP Institute of Civil Engineering that will help high school students to further appreciate civil engineering. About 400 high school students from Metro Manila are expected to join these events.
College Lab Tour
The College Lab Tour is an open lab tour participated by almost 500 college students. Participants are toured around the laboratories of the UP Institute of Civil Engineering and machineries and equipments are exhibited such as the e-Jeepneys, Horiba Van, and the like.
Company Talk
The company talk is a series of talks conducted by different company representatives that showcase a close look to corporate world and companies' involvement to the society. Participated by more than 2000 students, the Company Talk is simultaneous with the National Civil Engineering Symposium and National Civil Engineering Quiz.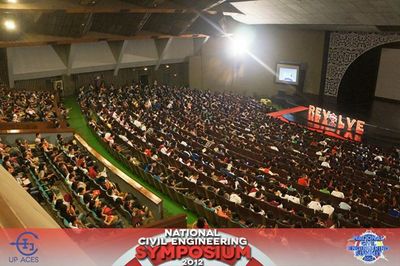 National Civil Engineering Symposium
The National Civil Engineering Symposium is the basic premise of the National Civil Engineering Summit. The event is a series of talks about brand new technologies and breakthroughs and an avenue for the older generation and professionals to pass on their wisdom to the current generation. The Symposium provides civil engineering students with a better understanding on what fields in civil engineering to choose from. Now on its 8th year, with over 2400 participants last year at the UP Theater, the NCES is definitely a worthwhile avenue to enlighten tomorrow's civil engineers. Simultaneous with the Symposium is the Company Boothing and CE Job Fair.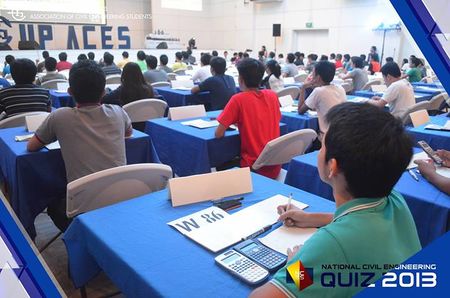 National Civil Engineering Quiz
The National Civil Engineering Quiz is the highly acclaimed and grandest academic quiz competition for the brightest civil engineering students in the Philippines today. In its 21st year of existence, it continues to promote scholastic excellence and competence among the participating college and university students. With over 120 teams coming from each region of the country, the event surely develop camaraderie among students and faculty.
Victory Party
This Victory Party serves as a culminating night for the organizers after NCES. All members, alumni, guests, and sponsor representatives are invited to attend this night of food, drinks, and party.
Civil Engineering Exhibit
The Civil Engineering Exhibit promotes awareness and appreciation and endorses Civil Engineering by presenting its different fields, breakthroughs, and roles in the society. The exhibit also showcases the events and proud members of UP ACES. The exhibit will be at the Lobby of UP College of Engineering, UP Theatre, and UP GT Toyota – Asian Center and is open to more than 3,500 students and guests
Engineering Week Events
UP ACES is the only organization in the College of Engineering that holds 2 out of the 7 night events during the most anticipated Eng'g Week.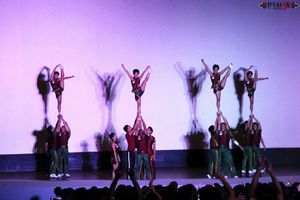 Indakan
Indakan is an interpretative dance competition which exhibits the innovative and creative talent of the students in accordance with the year's chosen theme. For more than 30 years, it has been consistently the most awaited and attended night of Engineering Week. UP ACES has been successful in making this spectacular event possible for the entertainment of more than 1500 students. Thus, Indakan's rich tradition of great music and superb dancing exemplifies the rising reputation of UP ACES as one of the outstanding event organizers in the university.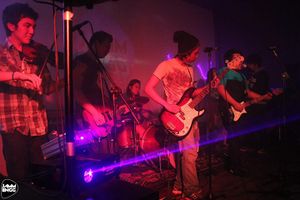 Jammeng'g
Jammeng'g is a band competition open to musically-inclined talents of the UP engineering community to battle it out live in a full electrifying jam session. Pressured to work within the given theme and limited to the choice of songs, this competition induces performances ranging from the craziest, most enlivened to the smoothest and sentimental crooning acts to gain the favor of about 500 university students.
See Also