Maza-ya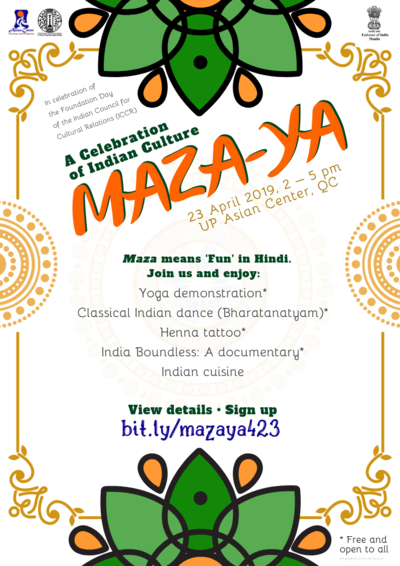 Join a yoga session, learn about classical Indian dance, and enjoy traditional Indian cuisine at "Maza-Ya: A Celebration of Indian Culture" which will be held on 23 April 2019, 2 pm – 5 pm at the UP Asian Center, Quezon City. The event is free and open to the public. Seating is first come, first served. Walk-ins are welcome, but interested participants are encouraged to sign up.


WATCH: 'INDIA BOUNDLESS, A PLACE IN THE HEART OF THE WORLD' (2 – 2:50 PM)br/> Produced by the Ministry of External Affairs of India, this documentary on India. Its synopsis goes, "Today, India is rejoicing its abounding soft power wealth with fervor. The power of yoga is being acknowledged across the world. Sanskrit and Sanskriti are bridging civilizational gaps. Bollywood in inspiring cross-border affinities even while desi food has made inroads on the gastronomical map of the world. The documentary threads together the stories of ordinary people from around the world who have been influenced by India's 'soft-power' and explores, how the soul of a nation exists outside its own boundaries making India, so boundless!"br/>
THE BENEFITS OF YOGA (2:50 – 3:20 PM)br/> The audience can bring their own yoga mats if they wish. The session will be led by Ms. Rajshree Jayaram, who will also conduct breathing and meditation exercises. A certified yoga and meditation instructor, Ms. Jayaram teaches yoga to various age groups.br/>
BHARATANATYAM: A LECTURE AND DEMO OF CLASSICAL INDIAN DANCE (3:20 – 3:40 PM)br/> This workshop will include a brief history of Indian classical dance, its origin and different classical dance forms. Participants experience the joy of learning an ancient Indian classical dance form "Bharatanatyam," known for its precision and symmetry. She will discuss the basic components of hand gestures, body stances and foot percussion that are distinct to this particular practice.
Shanti Sreedhar specializes in Bharatanatyam and Kuchipudi, two types of classical Indian dance. For over 2 decades, Shanti has been teaching her art to several Indian and other Asian students all over South East Asia. She is a Category A dancer (National Broadcast [Doordarshan] of India. View her profiles here and here.
A TASTE OF INDIA: VARIOUS CUISINES (3:40 – 5 PM)br/> There will be a samosa chef demonstration. Snacks and finger foods from Indian restaurants will be sold throughout the event. There will be free samosa given, but subject on a first-come, first-served basis.br/>
HENNA TATTOObr/> Participants can also get a henna tattoo during the event. They will be served on a first-come, first-served basis. br/> ABOUT THE EVENTbr/> The event marks the 69th anniversary of the founding of the Indian Council for Cultural Relations (ICCR) which aims to promote cultural exchanges and strengthen relations between India and other nations. The event is organized by the UP Asian Center, the ICCR, and the Embassy of the Republic of India in Manila. Maza-ya is a portmanteau of the Hindi word, maza (fun) and the Filipino word, masaya (happy). br/>