UP College of Science
UP College of Science
Kolehiyo ng Agham


Established
1983
Type
University of the Philippines College (officially Degree-Granting Unit)
Dean
Jose Maria P. Balmaceda, Ph.D.
Associate Dean for Academic Affairs
Windell L. Rivera, Ph.D.
Associate Dean for Student and Public Affairs
Giovannie A. Tapang, Ph.D.
Associate Dean for Resources and Facilities
Luis Maria T. Bo-ot, Ph.D.
Acting College Secretary
Hernando Salapare III, M.Sc.
Assistant College Secretary
Jasmin-Mae B. Santos, M.Sc.
Website
UP College of Science

The College of Science is the country's pacesetter of academic excellence in the basic and applied sciences and mathematics. It graduated 323 PhD, 1,154 MS and 5,905 BS students between May 1983 and April 2008. The College operates the National Science Complex established by Executive Order No. 583 signed by President Gloria Macapagal-Arroyo on December 8, 2006.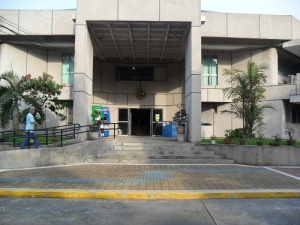 Degree-Granting Units
Non-degree granting units/programs
History
Directory
Dean's Office : 9247674 / 9247392/ 9818500 local 3801/3802
Assoc.Dean :9818500 local 3804 Supply : 3810
See Also
If you have any concerns with regards to this template, please contact me.
UP COLLEGE OF SCIENCE
University of the Philippines, Diliman



Academics
BiologyChemistryEnvironmental Science and MeteorologyGeologyPhysicsMarine ScienceMathematicsMolecular Biology
Units and Programs
Computational Science Research CenterNatural Sciences Research Institute
Materials Science and Engineering ProgramScience and Society Program
College
College of Science AuditoriumScience Library and Administration BuildingNational Institute for Science and Mathematics Education Development
Publications
Scientia
Website
http://www.science.upd.edu.ph/